Just like Sex and The City and Gossip Girl before it, Younger has quickly established itself as a rather stylish show.
It should come as no surprise then, that Patricia Field, the woman responsible for making SATC such an iconic program is also a costume consultant on the drama.
The show centres around 40 year old Liza Miller, who must pretend to be in her twenties to get back into the publishing world after raising her daughter – all while trying not get caught out amongst her web of lies.
Listen: Everything you need to know about Younger season four. Post continues after audio.

Since it first aired in 2015, the wardrobes of the characters have been inspired, inspiring and influential. But there was one outfit in particular that has signalled a major shift in the way the story is told visually, and made us sit up and view the characters in a whole new light.
It was this dress, worn by Hilary Duff as Kelsey Peters in the first episode of the latest season, now streaming on Stan.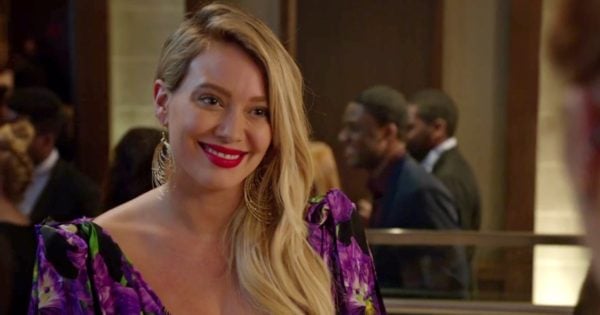 Look familiar?
Turns out it's a not-so-subtle nod to an equally iconic number worn by Sarah Jessica Parker aka Carrie Bradshaw in the first feature film.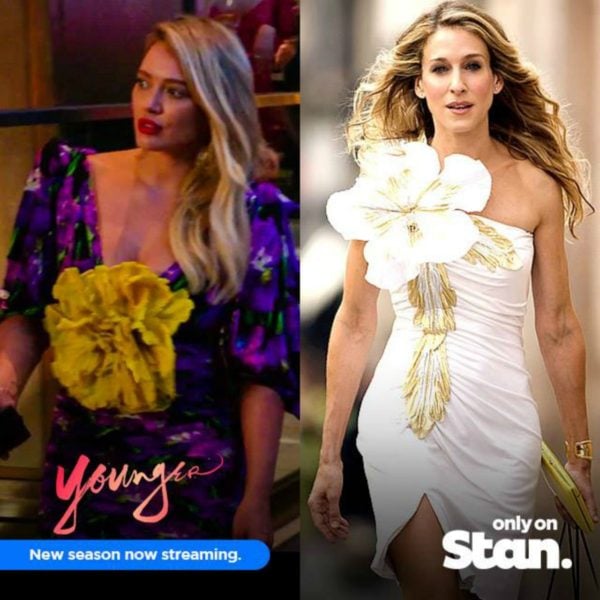 It's a major turning point.
As well as looking aesthetically pleasing, it proves that clothes are as much a supporting character in Youngerr as well, Charles or Josh, particularly when it comes to Kelsey and Liza. It's only now we're four seasons in, you can really chart the progression of the clothes and the characters.
For the biggest TV and entertainment news of the week, listen to the latest episode of The Binge. 
Take protagonist Liza Miller. She's a 40-something-year old pretending to be a millenial and in the early seasons her clothes reflect that. The outfits are what a mature person thinks a person in their twenties would wear. She looks uncomfortable, a little try-hard.
"I thought maybe Liza would model her 26-year-old persona after her daughter. Maybe she would have pulled a few things out from her daughter's closet. Since she's having financial difficulties because of her divorce, I imagined she then went to a thrift shop and to some high-street stores and added to the wardrobe that way," Field told Refinery 29 last year.
"That's why I had her wearing mixed plaids and prints and motorcycle boots — they're iconic pieces that I see the young people who go into my shop wearing, but it's also a hodgepodge of stuff that she's cobbled along the way."
As the show has gone on, her clothes have become more effortless, to reflect Miller's own growing confidence in the role she has created for herself. But that insecurity is still mirrored in her clothing.
"I had to wear a bathing suit in an episode [in Season three] which was terrifying but if I felt like 100 per cent confident in everything I was wearing, it wouldn't feel right.," Sutton Foster, who plays Miller told PeopleStyle last year.
"I think Liza is still, not 100 per cent confident in the skin she has put on so it all is sort of working together. So the short skirts and the high frickin' heels — some of the more awkward things are actually kind of helpful."
Ironically, Miller's style often looks younger than that of the actual twenty-somethings she works with, including her boss Kelsey.
"Hilary Duff plays Miller's coworker, and her character is very fashion-magazine conscious and ambitious. She looks to her bosses and the higher-ups in the company and copies them, but adds her own youthful spin — more color, shorter hemlines," explained Field.
Her vibrant purple almost-eighties style party dress with the slashes neckline and contrasting yellow statement flower is her power dressing - as she struggles with the aftermath of discovering Miller's secret. It's a bold shift and a signal that something big is changing with her character.
Remember - when it comes to TV, no clothing decision is ever a coincidence or unplanned. And just one episode in to the latest season, we can't wait to see where it goes next.
What TV shows are you loving at the moment? Let us know in the comments below.