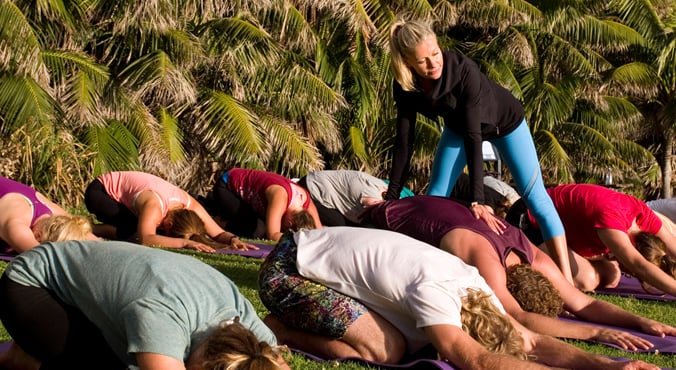 Images: supplied
There are two chief categories of human at a health retreat and in my modest experience, one of them is absolutely not me. I'm the sort who has a few cheeky pinots one school night and, after a frank look at my thighs, books the Inner Wisdom package online in a moment of self-loathing. She's not like that. She's the sort who planned this well in advance as part of an ongoing program of 'wellness' and 'self-care'.
I'm the sort who can't say either 'wellness' or 'self-care' without cracking up. She's much nicer than me. Her Ayurvedic body type is Vata.
Actually, I refuse to have an Ayurvedic body type. And I refuse to go to swallow the east-meets-west grab-bag of science-lite nonsense purveyed by most wellness retreats. But, what I don't refuse is handing over the care of myself entirely to a Totalitarian Health Regime. Because, goodness knows I need it more than slender, self-disciplined Vata.
And it is independent Vata and not Baby Razer who may be best suited to the pillowy Polynesian setting of Lord Howe Island for a relatively self-guided health-retreat. While marvellously free of the hippy drivel one must generally bear at dedicated health resorts, it is also free of supervision. And I'm the kind of infant who yearns for discipline.
In recent years, I have taken the standard week-long retreat at Golden Door and Gwinganna. A deep aversion to health hocus pocus notwithstanding, I found great benefit in both experiences. By which I obviously mean, my thighs looked a shit-ton better after five days of kale, bushwalking and sadistic ballet Pilates. I also reduced my caffeine intake and slowed the pace of my light-speed temper. But. Who are we kidding? We of the I-booked-drunk-online wellness cult don't cough up two grand to become better humans. We do it to become hotter.
Behind the scenes at Helen Razer's Wellness Week