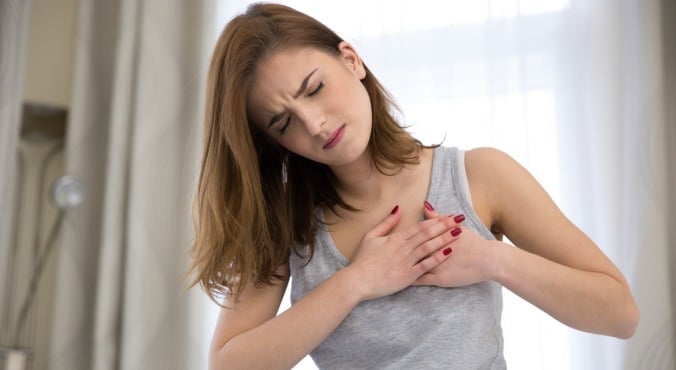 Image via iStock.
It's a health issue we often associate with grey-haired men with high cholesterol, but new studies have found that young women are actually more likely to die of a heart attack than their male counterparts.
Twice as likely in fact.
That's more than 15,000 women under the age of 55 dying of heart attacks every year. The main reason why? Researchers are saying it's due to the fact women are reluctant to seek help as we don't want to be labelled hypochondriacs.
RELATED: Want to live longer? All you need to do is this one (fairly) simple thing
The Yale School of Public Health recently published a study on the experiences of women under the age of 55 who had been hospitalised for a heart attack.
The biggest surprise was the discovery that it was not uncommon for younger women to "ignore" or "dismiss" their symptoms and hesitate or "delay" seeking care, due to anxiety about raising a false alarm. Premature death is an absolutely devastating side-effect of being embarrassed or hesitant about seeking medical attention.
The study also indicated that a lack of awareness about heart disease is also largely responsible for such a huge number of women losing their lives to heart attack.
RELATED: This is why heartbreak physically hurts
Even some participants in the Yale study who had a family history of the disease greatly underestimated how much they were personally at risk, usually reasoning that they were "too young" to be having a heart attack.
Part of this problem is an ignorance of actual symptoms. Many assumed heart attacks were the same as what you see acted out in Hollywood movies: a sudden onset of chest pains and then a shooting left arm pain. In reality, women often experience different symptoms to men.
Some of our favourite women on their body image (post continues after gallery).
We love these celeb quotes on body image