Today, Yassmin Abdel-Magied might very well be the most hated woman in Australia.
Abdel-Magied posted a seven word Facebook status, which read "LEST. WE. FORGET. (Manus, Nauru, Syria, Palestine)."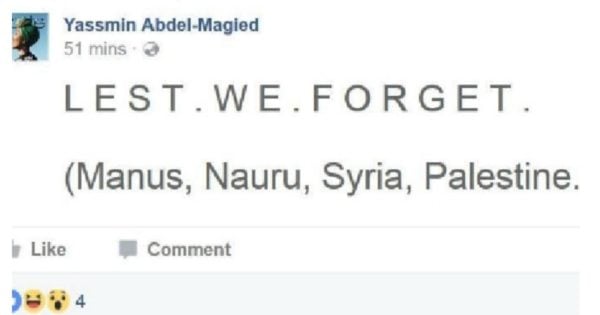 The status was not up for long before Abdel-Magied deleted it, issuing an apology: "It was brought to my attention that my last post was disrespectful, and for that, I apologise unreservedly."
But it was too late. The outcry was immediate and vile.
"You're a pretty terrible human being if you couldn't work that out on your own," one comment read, which attracted almost 2000 likes.
The status received more than 3500 comments, most of which referred to her as "disrespectful scum," "sickening," with some defaulting to racist epithets like "You filthy rag head."