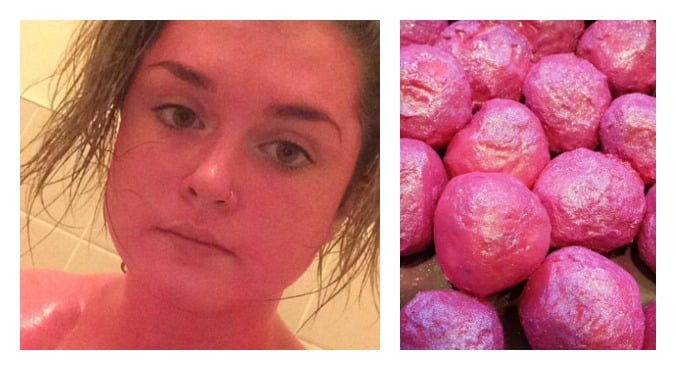 Image: Abi Shenton/Lush (Twitter)
After mistaking a brightly-coloured Lush bath bomb for soap, UK woman Abi Shenton was left a little pink-faced. Quite literally.
Rather than hide away, she shared the (hilarious) evidence on Twitter, writing, "Hi! @lushcosmetics just a quick question, are your products supposed to stain the human skin fluorescent pink?"
However, Abi soon realised the error of her ways as she explained in a tweet three days (and several baths) later.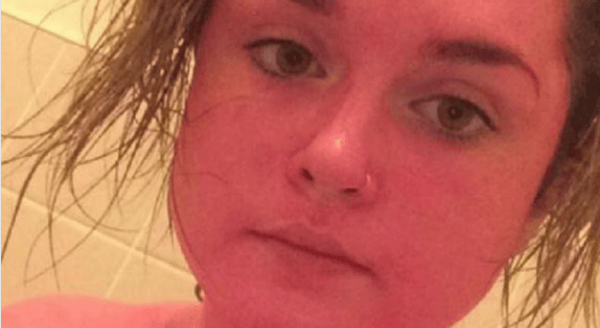 "You are supposed to dilute [the product] into water but I thought it was a soap and rubbed it all over my body and face (explains why my hair is dry)," she wrote.
"I misused this product! ... A very helpful friend of mine works at Lush and helped me remove all the pink stain with lemon juice, olive oil and a gritty face wash."
Oh, Abi.
But hey, we've all been there — and we all have one (or 1558468) beauty horror stories of our own. Just ask the ladies of Reddit, who shared their worst beauty mistakes in a very cringe-worthy thread. Many of their stories were universal — over-plucked eyebrows, fake tan horror situation, using the wrong foundation by about a zillion shades — but then again, some most definitely aren't.
1. "I used to shave off my eyebrows and draw them on."
The beauty trends The Glow team are happy to see the end of? Check them out below. (Post continues after video.)