We hear a lot of statistics about poverty. We hear that more than 767 million people live on less than US$1.90 a day. We hear that over half of the world's extreme poor are under 18, that more than 800 million don't have enough food.
But there's a different statistic World Vision Australia's new CEO Claire Rogers wants people to hear: In the last two decades, the number of children aged under five dying around the world each and every day has halved from 30,000.
That's the statistic, the Melbourne mother of two argues, that should make people realise they are not impotent, not insignificant in the fight against global poverty.
"It's still absolutely terrible that there are 15,000 dying daily, but it demonstrates that in relatively short periods of time you can make real change happen," she told Mamamia.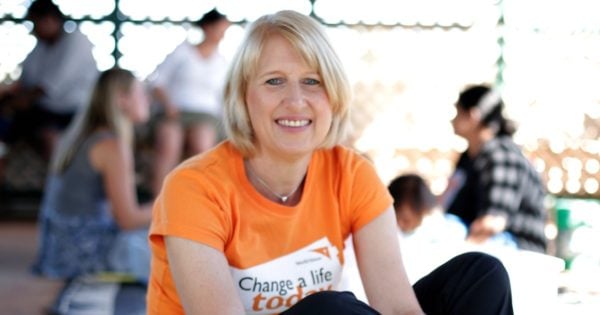 Contributing to this change is part of the reason that, in November 2016, Rogers agreed to head up Australia's largest not-for-profit and in the process become the first female CEO in the organisation's history.
"I always felt I had a good, well-paid job, I got to go to uni," she said, "but I had concern that I wasn't really engaging with the population that lives in or near poverty."
Yet when Rogers was first approached by World Vision Australia, she baulked.
As the head of digital banking at ANZ, she'd made a name for herself as an industry innovator, she'd seen how she could help shape the future. Once she realised she could apply those skills in a truly meaningful way, that she could help impact communities all over the world, those hesitations ultimately became the role's selling point.
"Everyone around me knew way before I did that I was going to do this job. They were like, 'This is a great role for you, Claire. Just go talk to them.' So I did and I started to hear about the work that we do, and I caught the heart for it," she said.
In working out how to best implement her wealth of skills, Rogers is planning on personally visiting as many of World Vision's programmes as her schedule allows. In 2016 it was Myanmar, earlier this year it was Sri Lanka, then just last month, Mamamia joined her to see the work the organisation is doing in the Kimberley region of Western Australia.