Six diverse Australian women appeared on the front page of The Age yesterday.
At first glance it's not immediately obvious what connects them to one another — although the headline, The Big Sleaze, certainly hints at it.
Each of the women has experienced harassment at work; from customers, students, clients and patients.
Their stories are among 20 which appeared inside the newspaper in a two-page spread on the hidden, gendered epidemic rife in Australian workplaces.
"I've had people masturbating in change rooms. Menacing situations where people ask leading questions to establish whether you are alone in the store," retail worker Megg told Fairfax.
"You develop a low-lying sense of vigilance that's always there, all the time."
The difference between men and women applying for jobs (post continues after video):
Another woman, Lauren, said her boss at a men's suit store once instructed her to prey on men's "sleaziness" to make sales, and even as an industrial designer things were not much better for her.
"The director would often introduce me to clients either as the 'office person' or with sexual innuendo about the age gap between us. Then he would take credit for my work, brazenly, while I was present in the room," she said.
"As a feminist, it was particularly humiliating, because I felt every time that happened and I didn't say anything, I betrayed myself."
And these women are by no means alone.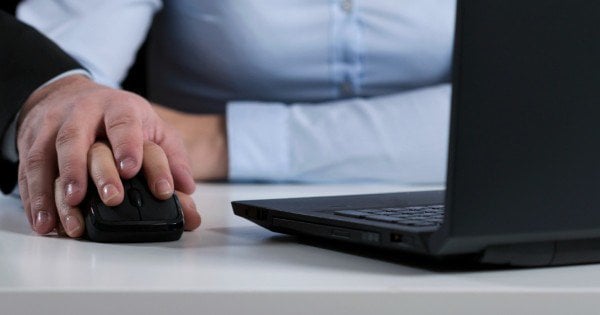 Too many Australian women experience bullying, harassment or violence. Source: iStock
A new report, seen by Mamamia, by the Victorian Trades Hall Council (VTHC), drew on the experiences of 500 working women from a variety of industries and found, disturbingly, that 64 per cent had experienced bullying, harassment or violence while at work.