Six diverse Australian women appeared on the front page of The Age yesterday.
At first glance it's not immediately obvious what connects them to one another — although the headline, The Big Sleaze, certainly hints at it.
Each of the women has experienced harassment at work; from customers, students, clients and patients.
Their stories are among 20 which appeared inside the newspaper in a two-page spread on the hidden, gendered epidemic rife in Australian workplaces.
"I've had people masturbating in change rooms. Menacing situations where people ask leading questions to establish whether you are alone in the store," retail worker Megg told Fairfax.
"You develop a low-lying sense of vigilance that's always there, all the time."
The difference between men and women applying for jobs (post continues after video):
Another woman, Lauren, said her boss at a men's suit store once instructed her to prey on men's "sleaziness" to make sales, and even as an industrial designer things were not much better for her.
"The director would often introduce me to clients either as the 'office person' or with sexual innuendo about the age gap between us. Then he would take credit for my work, brazenly, while I was present in the room," she said.
"As a feminist, it was particularly humiliating, because I felt every time that happened and I didn't say anything, I betrayed myself."
And these women are by no means alone.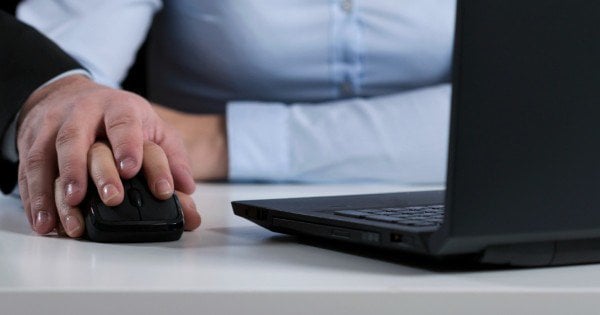 Too many Australian women experience bullying, harassment or violence. Source: iStock
A new report, seen by Mamamia, by the Victorian Trades Hall Council (VTHC), drew on the experiences of 500 working women from a variety of industries and found, disturbingly, that 64 per cent had experienced bullying, harassment or violence while at work.
Over an extended period of time such harassment, from the explicit to the insidious, can lead to serious psychological injury, even suicide, but often it's dismissed as 'just part of the job'.
"I have had my manager wolf whistle at another woman worker, and when I said that's not okay the manager asked me if I was jealous. I raised this harassment with my manager's boss and he said the issue was a personality clash," an unnamed copywriter and editor from Melbourne said in the report.
"I was sexually harassed and bullied by men at work and then told it was my fault because of the way I wear my uniform," a factory worker from Springvale said.
Gendered violence is any action which is used to cause harm to women simply because they are women.
At work, it can include stalking and intimidation, threats or verbal abuse, offensive language, sexual innuendo, advances or assault — anything that makes you feel unsafe while you're trying to do your job.
"This is a workplace safety hazard like any other, and WorkSafe needs to take responsibility for leading change," said VTHC Secretary Luke Hilakari.
"Employers need to know that harassment and intimidation aren't things women should have to put up with. Employers have a duty of care to their staff, and if they're not taking responsibility seriously there should be consequences."
The VTHC along with hundreds of women are now pushing WorkSafe to prioritise putting an end to damaging daily sexism in the workplace.
Women should be able to get on with their jobs without being scared for their safety, it's about time their concerns were heard.