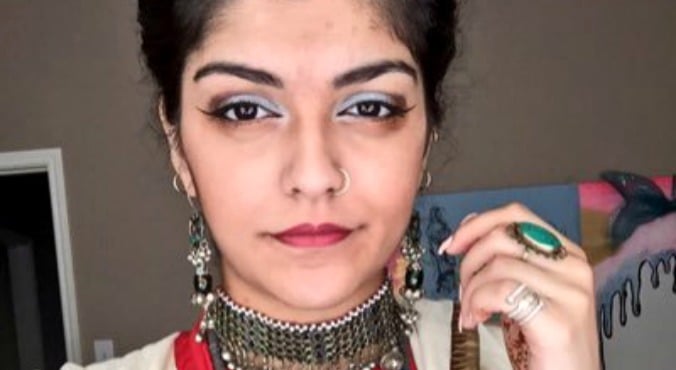 Image: Twitter/@iranikanjari.
Stop and think for a moment: when was the last time you saw a photo of a woman with visible body hair?
With the occasional exception of armpit hair, which grabbed a slice of the media spotlight last year thanks to the likes of Miley Cyrus and Jemima Kirke, the images we see of women's bodies are usually completely fuzz-free. This might be because the hair has been forcibly removed, or it's too fair to see, or some photo editing wizardry has been employed.
You'd be forgiven for thinking women in their natural state were are smooth as sharks, which is obviously not the reality in most cases. This is precisely why we love these photos posted by Twitter user Pakola Papi (@iranikanjari) last month:
Yeah, those Walmart undies look cute and comfy as hell, but what really caught our eye was the hair on her stomach and thighs — and the fact it hadn't been lasered or waxed or bleached to within an inch of its life. It goes without saying that women have the right to do whatever they want with their bodies and the hair on it, but it's not often you see evidence of au naturel female follicular growth, especially on the internet.
Papi's post has since been retweeted almost 1500 times and attracted hundreds of responses, to her great surprise. Unfortunately, and predictably, a lot of the replies were unkind. Actually, they were disgusting — we're talking jokes about Walmart also selling razors (oooph, such biting wit) and her stomach being hairier than a man's (commence eye rolling).
Watch: Aussie singer Christine Anu discusses body image. (Post continues after video.)