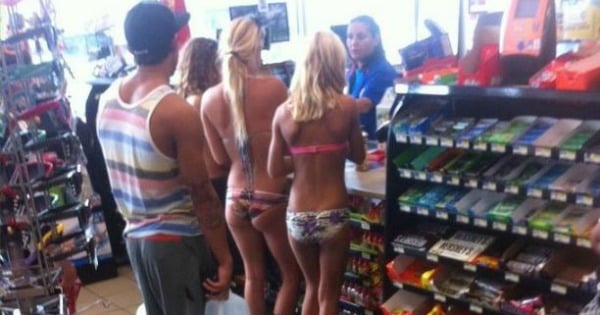 Ah, summer. The season we all head to the coast and roam around carefree in our bathers. It's a happy time.
This picture looks like a shopping trip to a local 7-Eleven to pick up some beach snacks. But the photo has gone viral. And this time it's not because the internet is objectifying two girls in bikinis.
There is just one small, unfortunate detail that's got everybody talking. (Seriously, it's been viewed on Imgur more than 200,000 times in four days.)
Can you spot it?
Yes, that appears to be an ankle monitor that the girl in the middle is wearing.
The picture was uploaded to Imgur with the caption "Nothing adds to your summer look like a court ordered ankle monitor..."
While we can't know for sure what the situation is, we're just pleased she's out enjoying her summer. (We can only presume she's in the Northern half of the globe. Lucky ducks.)
In other news, here's a brief history of swimwear for you to soak up. 
Tags: