A woman has issued a warning about the dangers of 'relaxing' essential oils after an evening at home left her severely burnt.
Emily Smith suffered chemical burns to her face and eyes when an essential oil diffuser she was using at home sprayed vapour in her face.
The 24-year-old shared the graphic pictures of her burns on Facebook along with a frustrated message, which has since gone viral.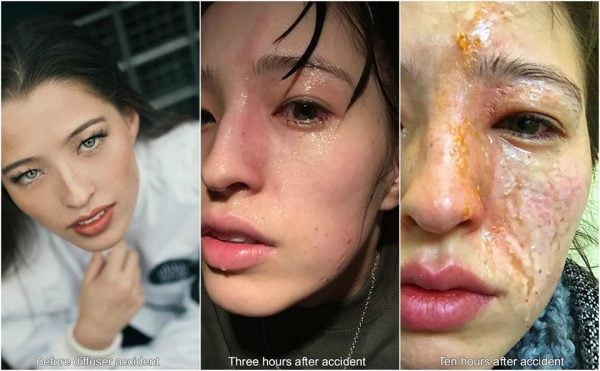 "If you asked me four days ago whether I thought I would be a victim of chemical burns on my face and eyes, I wouldn't have believed it," she wrote.
"You always think 'this won't happen to me'. But this time it did."
Smith said a popular electric diffuser was scenting her home, when she walked over to it to turn it off by holding down the button for a number of seconds, as is instructed.
"In the process of turning the appliance off, some of the vapor from the diffuser must have sprayed onto my face. But I didn't think anything of this. Whilst I was somewhat aware of the danger of getting essential oils directly on my skin, I was unaware that the vaporised 'diluted' oil from my diffuser could also be dangerous," she wrote.
A few hours later, she went to put a log on the living room fire.
"Immediately, I felt a stinging sensation on my face but due to the fact that my body never came into direct contact with the flames, combined with my ignorance about the nature and danger of the oils my skin had come into contact with, I didn't put two and two together," she wrote.