Carrie Bradshaw once said: "Sometimes, it's really hard to walk in a single woman's shoes. That's why we need really special ones now and then to make a little more fun."
Single or not, let's be honest, nothing puts a spring in your step quite like a new pair of shoes, both literally and figuratively. Lucky for us all, winter has some seriously great shoe trends to get us excited about new purchases for cooler months.
Two major shoe trends that aren't going anywhere fast are the sock boot and the over-the-knee boot. In fact, both these elements find their way into quite a few of the trends for winter. Speaking of,  here are five specific ones you're about to see in the stores and all over your Instagram feed.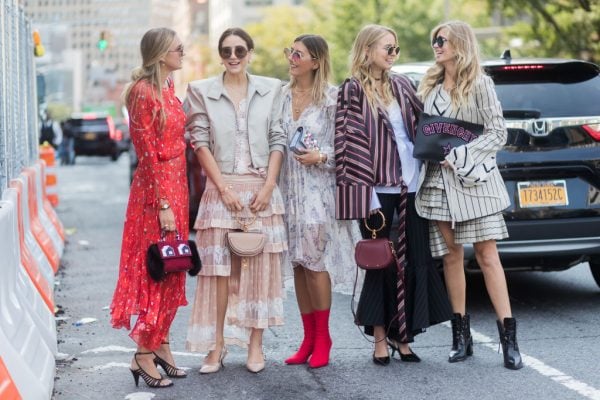 Silver Siren
Remember those ridiculous $12,000 silver Swarovski-crystal Saint Laurent boots both Rihanna and Kendall Jenner wore recently?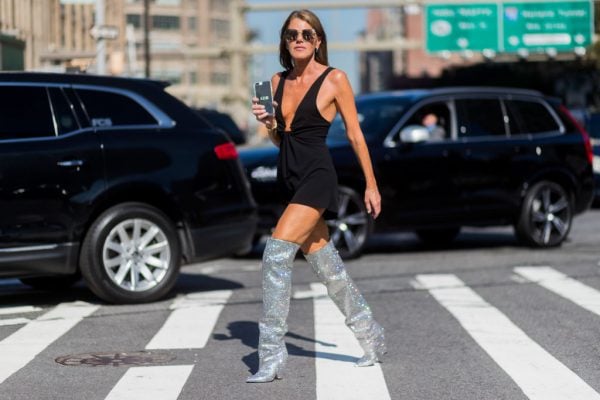 They made their way via the show that shaped this shoe season. An army of silver shoes, specifically boots, came down the YSL runway and the fashion world has followed suit. Though for us normals can barely afford this weekend's avo toast, there are heaps of  fabulous high street alternatives. Windsor Smith has nailed it with a sorta similar pair for Under $200. If you're after something a little more subtle, look no further than Zara's glittery ankle boots for $139.
Styling wise, keep everything else simple with black basics and denim. The shoes are the hero.
Listen: Laura Brown on the moment she was offered the Editor In Chief role at InStyle in America

The Kitten Heel
I once heard a stylist say "there is nothing sexy about a kitten heel" and while for the longest time I agreed, Dior has changed my mind. Never has a kitten heel looked more chic and effortless. This winter we're going to see them on everything from leather pumps to ankle boots.
Styling rules are as follows: if you're on the shorter side be sure to pair your kitten heels with a skirt, it doesn't need to be a mini, but even a slither of skin will break this up and visually elongate. Zara has done a pair of polka dot kitten heel boots, $69.95, that make my heart sing and you can't go past this classic sling back style, $199, by Senso for simple and chic option.
The Red Boot
Without a doubt the biggest boot trend of the season, it is all about the colour red this winter and nothing finishes an outfit quite like it. It'll spice up denim and make all-black sing.
Wittner has nailed it these knee-high scrunch-style boots, $369.95, while Witchery has an ankle boot option, $249.95, which works well with skinny jeans.
The 'Dad' Sneaker
So here's the thing, I really, really wanted to hate this trend - but like many, the more you see, the more you want. It first hit the scene via Balenciaga, but it's the Louis Vuitton style that really made the trend go mainstream.
Kanye's next style for Adidas is an ode to it and so it seems the 'Dad Sneaker' really is here to stay. Think Seinfeld - peak 90s.
Should you, like me decide, to dip your toes in (sorry) I would start with something a little simpler and somewhat less chunky. There's no need to drop a month's rent on a designer pair - Pretty LittleThing does a more slim-line option, $55. If you're feeling brave, Nike make a fun pair, $129.95, that will give you ALL the 90s nostalgia.
My tip: pair with denim or a skirt in place of slides from summer!
The Slouch Boot
Another nod to the 80s, the slouch boot is another strong contender for the boot of the season. This style works best when paired with strong, slim-lined or structured pieces to balance out the slouch factor. Think shirt dresses and statement skirts.
Keep an eye out for neutral tones - think black, brown and camel - as this is a boot that will carry you through a couple of seasons.
Senso has a gorgeous style in a shade of cinnamon, $385,  that would look amazing with an off-white turtleneck and silk skirt. Jo Mercer has also nailed this classic style in black, $349.95, so you'll be able to wear for seasons to come.
Denis Todorovic is a celebrity fashion stylist and the Style Editor at Cosmopolitan.