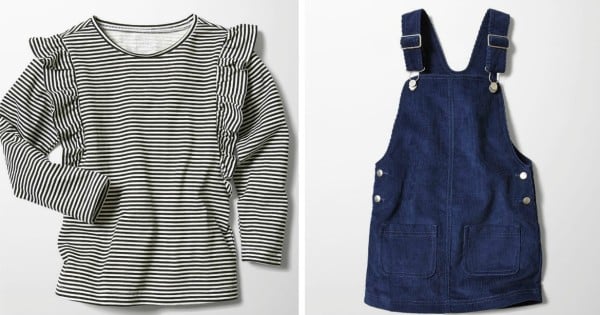 We all never thought winter was coming.
We thought the endless summer would continue. Day in day out. Shorts and tees. Sandals.
Last season's woolies stayed in the back of the cupboard didn't they? My four-year-old daughter has been living in a tiered rainbow skirt and a printed t-shirt.
We were growing complacent.
But as sure as little girls want new clothes winter came with a very chilly force and we needed a winter wardrobe that would last the distance and withstand the school holiday chaos. And it would be perfect if some of the pieces would last into the spring.
The cord pinafore by Kmart doesn't just fill this requirement but is smart enough to wear out for pizza after. Image supplied.
It also had to appeal to a four-year-old going on fourteen.
Now that's the trick isn't it? My daughter and I have different tastes when it comes to fashion. What she sees as pink-princess-heaven I see as frou frou to the extreme.
But this four-year-old isn't going to take what her mum decides is fashionable, she wants to make her own decisions.
Luckily there are quite a few items from Kmart that appeal to not just Miss Four but her mother too.
So off we set and this is what we came up with:
Girls cord pinafore:
With two big brothers, for these school holidays my daughter needs a dress that can withstand anything from climbing trees to playing soccer to running full force up the slippery dip at the park and then home again to entertain three stuffed rabbits and a mermaid for a tea party.
The cord pinafore by Kmart not just fills this requirement but is smart enough to wear out for pizza after.
The pockets are just the right size for a collection of tiny dolls or dinosaurs depending on what mood your little girl is in. It's one of those versatile pieces that goes with just about anything. Layered with a parka, a pair of tights or leggings and whatever colour palate takes your fancy that day.