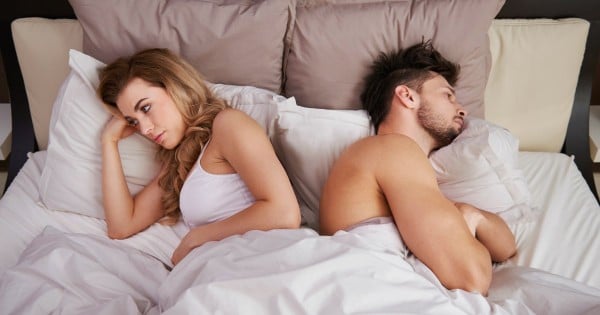 Hey you—yes you. You, with the sad eyes. You, who constantly checks their phone in hopes of seeing a certain someone reply. You, who is waiting for the person you love to treat you how you deserve. You, who have been stood up, cheated on, lied to, and played. You, who justifies why they do certain things—and that it's "not really that bad".
I want you to listen very carefully to me: you deserve more.
It's taken me nearly 21 years, but I've finally had a life-changing realisation: I am worth so much more than I've received. And I bet most of you are in the same boat.
Mamamia staff share the moment that they knew their relationship was done. Post continues after video…
I have been in a number of relationships where honestly, I've settled. Maybe they are great people—but if they don't treat you great, why are you with them? Why do we put up with such bullshit? We know we're worth more—so why do we do it?
I was dating a guy a few years ago who was probably my first real adult love—and boy, did I love him. I was crazy for him—even though he did not so nice things. Don't get me wrong; he did some very great things, too—and I know he loved me. But that doesn't mean I, or you dearest reader, have to settle.
He would often stand me up to hang out with his mates instead. He would lie to me about whose bag of pot that was I found under the coffee table. He'd lie, and tell me: No baby, I'm not on drugs, I promise. That was someone else's; they just left it there. Trust me. He'd ignore me for days on end when I did something he didn't like. He'd try to control who I could and couldn't talk to—and get mad when I disobeyed (and consequently ignore me again). But worst of all, he told me he loved me—and then he cheated on me.
The on-screen cheaters who we just can't hate. Post continues after gallery…
In another relationship, my partner wouldn't make the physical effort to come see me. He wouldn't make plans with me. Hell, he actually organised to go on a camping adventure on my birthday—and this was after not seeing me for a month. He thought that was perfectly okay. Again, he was a lovely guy; and he absolutely adored me. But once again, I settled for treatment I didn't deserve.
I'd been single for quite some time when I met my last partner. I thought he was perfect—but it was only after the relationship ended that I realised how terribly sad I was, and how much I wanted so much more. He is a great guy. He cooked me awesome food, and would even find recipes without things I'm sensitive too (despite the fact that he loved those ingredients). He'd give me back massages, and make me coffee. He would listen to my rants. He would calm me down. At the time, I thought all of this could make up for the bad things, but this is the truth: that kind of thinking does NOT work. It could have been so much more. It could have been beautiful. But it wasn't.