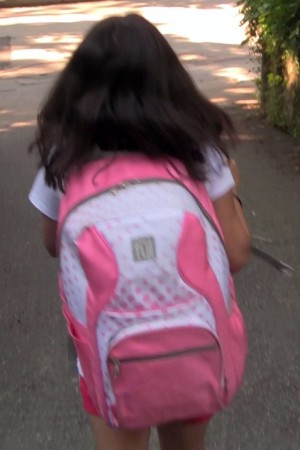 I did it. I allowed my daughter Risa, a third grader, to walk to school alone this week. Granted, this should not be breaking news given that it's a five-minute walk in a safe area well-traveled by parents trailing their children to school. And yet… I don't know a single other parent letting their third-grader do it. I feel like the town rebel: I am Kevin Bacon's character "Ren" in Footloose.
Why aren't most third-graders walking to school parent-free, like we all did when we were their age? We're scared to death; that's why. What if our children run in front of a car? Get abducted by kidnappers? I mean, it's just not safe out there like it was when we were growing up, right? Wrong. I, like many others, was astonished to read in Lenore Skenazy's controversial book Free-range Kids that it is indeed safe out there. After researching stats from the Department of Justice, Skenazy determined that crime — which rose through the '70s and '80s and peaked in 1990 — has been dropping steadily since then, and we're back to the same crime level we were at in 1970! What's different today? A 24/7 news cycle warning us about the "poison in our bathroom" and "house plants that kill," along with endless child abduction stories on police dramas such as "NCIS" and "Law Order." Of course we're paranoid!
If you're thinking, Sure, but what about all these mass shooting sprees and Internet crimes that didn't used to exist? Well, you're right, but these terrible acts have nothing really to do with letting our kids walk to school or play in the backyard. We lump these acts altogether and decree the world unsafe. And in doing so, we inflict another kind of harm on our kids: We teach them our own community is dangerous and they can't handle it without us. I vowed after reading Skenazy's book that I would do my part to stop the madness.