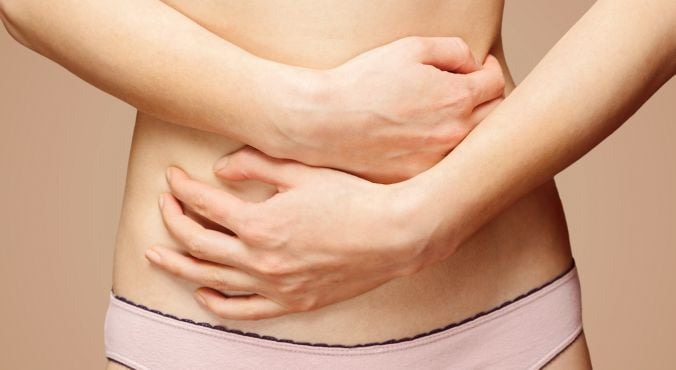 Image: iStock.
For most of us, our gut area tells us two things; when we're hungry and when we need to erm, visit the bathroom.
But while we look to other areas of our body for signs of our health, the digestive system – which is often called 'the second brain' – is actually an excellent communicator of what's going on inside.
"Our gastrointestinal system plays an incredibly important role in our health. What we put into our bodies via our gut has a significant influence on both our physical and also our emotional health," says gastroenterologist Dr John Halliday.
Pretty important then, huh? Here are five things your gut is can tell you about your health.
1. How your digestion is working.
According to Jay Pasricha, M.D., director of the John Hopkins centre for Neurogastroenterology, the gut's main role is to control digestion, right from the swallowing to the elimination process.
As a result, if you're suffering from constipation, diarrhoea, bloating, irritable bowel syndrome, pain or an upset stomach (functional bowel problems that 30 to 40 per cent of the population will at some point experience), your gut is indicating that something could be amiss and needs attention.
2. Whether you're anxious or depressed.
The past few years have seen a growing interest in the connections between microbiome (the microrganisms in a particular part of the body) and the brain.
According to a study published earlier this year in Nature Communications by scientists at McMaster University, there could be a link between the microbes in your gut and whether you suffer from anxiety or depression.
Researchers tested how the gut microbiome affected stressed mice, by separating baby mice with different gut bacterial conditions from their mothers for three hours a day.
One group was kept completely free of bacteria in their guts while the other group of regular mice was exposed to an ordinary, complex range of bacteria. The baby mice with normal gut microbiomes showed a significant increase of the stress hormone corticosterone and exhibited signs of depression and anxiety, while the germ-free mice did not.
After exposing the germ-free mice to bacteria taken from the stressed group, the scientists found that after a few weeks they also started to show signs of depression as their bacterial composition changed, suggesting that there's a link between gut bacteria and depression.
"We need to obtain some human data to be able to say with confidence that bacteria are really inducing anxiety or depression. I think it's very likely that for at least a percentage of patients with psychiatric disorders, the microbiota is playing an important role," lead author Premysl Bercik told IFL Science. (Post continues after gallery.)
Celebrities who have battled Anxiety Disorder
3. It can influence your feelings.
According to David Perlmutter, author of the New York Times bestselling book Brain Maker, the gut actually makes more than 90 per cent of extremely essential neurotransmitters, including serotonin, also known as 'the happy chemical'. See – we always knew the stomach was the key to happiness.
4. It can signal early indicators of serious disease.
Early symptoms for a range of conditions such as Parkinson's, osteoporosis and autism have been found to be displayed in the gut.
A 2014 study published in the journal Movement Disorders by University of College London, researchers suggested that certain brain diseases could be caused by an unhealthy gut because of the signals that travel between the gut and the brain.