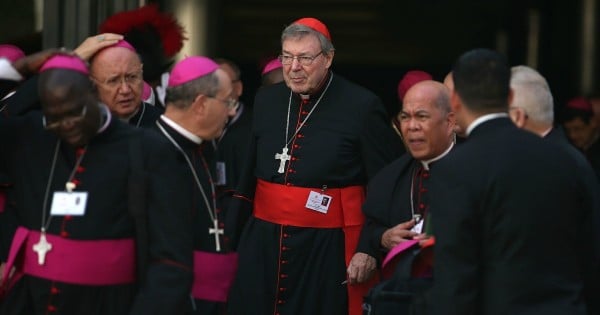 Ballarat woman Clare Linane, whose husband Peter Blenkiron, brother and cousin were all victims of sexual abuse by Brother Edward Dowlan in 1974, has penned a Facebook post. It encapsulates the motivations of the survivors who travelled to Rome to watch George Pell testify this morning.
"They're a group of admirable, brave and yet fundamentally damaged men, most of whom have PTSD," she writes of the 12-plus survivors she knows personally. "They have survived this far in spite of being raped, assaulted and damaged for life as children."
Linane is touched by the amount of money raised by the general public, spurred on by the support of public figures like Tim Minchin. "The generosity of those who contributed meant there will be funds left to establish a support mechanism to help survivors in Ballarat," she wrote.
While some members of the media were offended by the tone and language of Minchin's charity single, Come Home, Linane wants people to understand that it's perceived offensiveness is outweighed by its ability to communicate the feelings of survivors.
"This is the language of anger," she posted. "I owe George Pell no reverence beyond that which he has earned through his words and deeds."
Linane's post is a response to a piece by columnist Miranda Devine, who believes the Cardinal has been unfairly targeted by the media and public.
She explains that supporting or defending Pell can be seen as denying or dismissing survivors of sexual abuse by clergy. "If he's telling the truth, then David Ridsdale is lying when he says Pell said 'I want to know what it will take to keep you quiet'.
And Tim Green is lying when he says he told Father Pell in 1974 that Edward Dowlan was touching little boys, and was told: 'Don't be ridiculous'. And BWE is lying when he says he heard Pell say: 'I think Gerry has been rooting young boys again' in 1983."