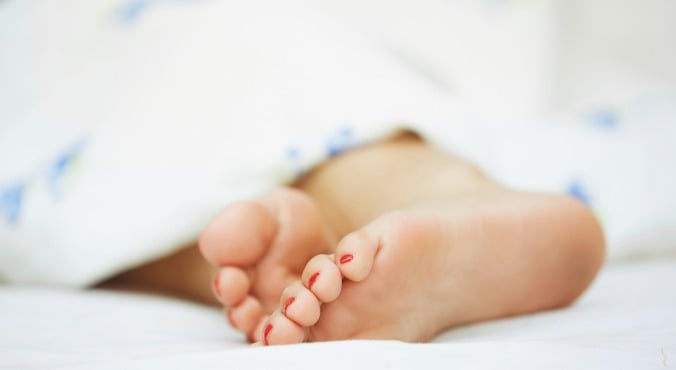 Image via iStock.
We've all been there. You're peacefully asleep when suddenly you jolt awake; it feels like something is clutching at your leg, and you flail around frantically kicking and rubbing your calves.
Leg cramps are those painful spasms that always seem to occur at inconvenient times, like halfway through a run or in the middle of the night.
But why do we get them? And what can we do to prevent and treat them? Consider this Muscle Cramps 101.
Causes of leg cramps
The exact cause of muscle cramp is unknown. However, there are some acknowledged risk factors — these include tight or inflexible muscles, your diet, dehydration, physical overexertion, muscle fatigue, muscle injury, and even wearing high-heeled shoes.
"Essentially, a cramp is when you don't have enough blood flow going to the muscle and you have a buildup of lactic acid. You can get cramps when the muscle hasn't got enough blood flow in it because it isn't getting what it needs to function correctly," Dr Ian Edwards, a chiropractor from Unwind Health, explains.
"There are many reasons why people get muscle cramps. If people overexert themselves during the day, for example, then they will have a build up of lactic acids and this will cause muscle cramping. Overexertion in general is a common cause of muscle cramps, but then for other people, they just happen for no apparent reason," Edwards explains.
Ooph. My leg feels tight even writing this.
How to treat them.
Most muscle cramps resolve after a few seconds or minutes, but Edwards does have some tips to help them dissipate faster.
"While it is happening, the best thing to do is to try and stretch the muscle; if you can stretch it, it will help alleviate the cramp. Heat packs are also a good treatment," Edwards explains.
By lengthening the muscle very gently, and lightly massaging it, the cramp will usually subside. You can see your physiotherapist for further details about stretches you can do when your leg is spasming.
Here are some simple stretching exercises you can do at home. (Post continues after video.)