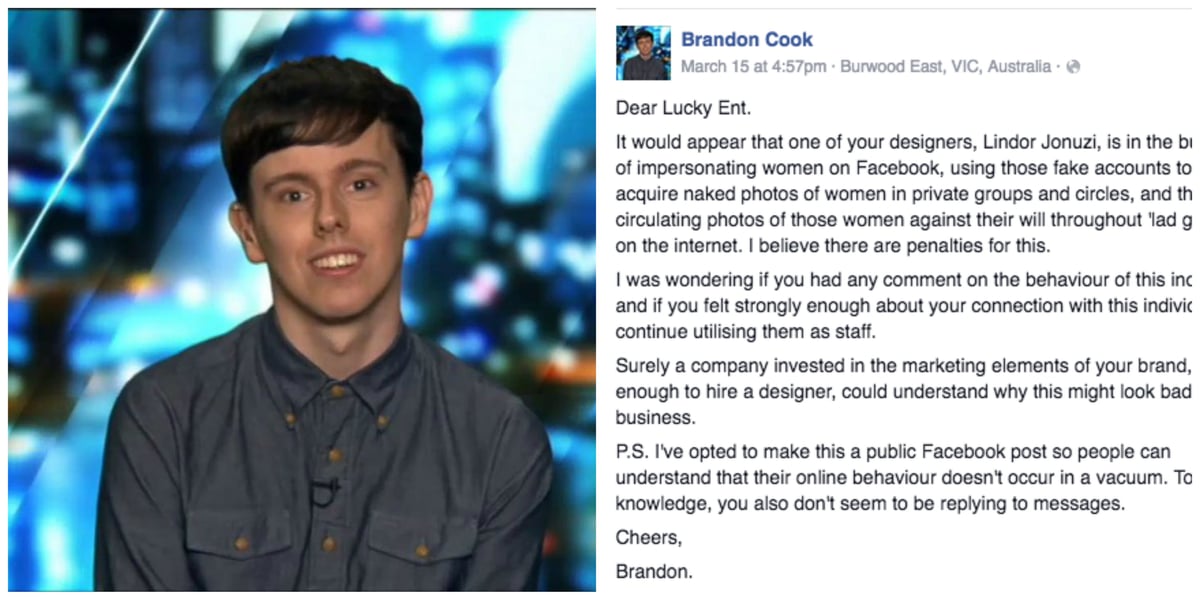 For the past week, I've been in touch with more strangers than I can count.
I've received both positive praise and numerous insults. I've been called hero, beautiful, fuckwit, poofter and queer. I've even copped death threats. I've had my name plastered on multiple media outlets, and had my face on nationally broadcast television for all to see.
And I haven't even had to leave my house.
Around a week ago, I made a public post on Facebook, ousting a total stranger for despicable behaviour.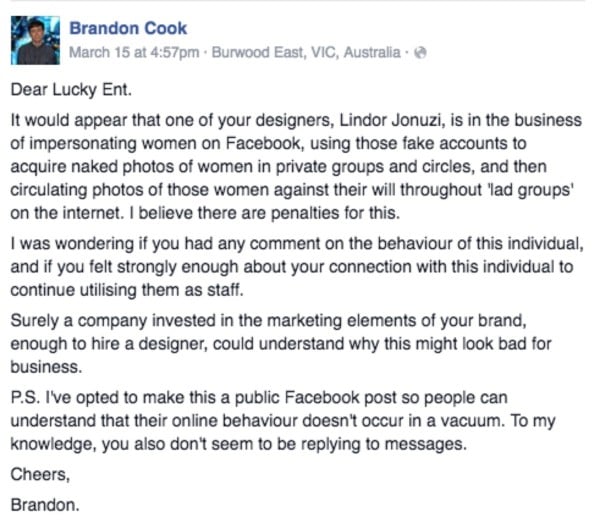 A nineteen-year-old boy snuck into a woman-only Facebook group using a fake account. He stole what he saw as scandalous photos – snaps shared by a woman for body-positive affirmation – and reposted them to a less-than-friendly 'lad banter' group. These images were captioned in the explicit interest of "roasting sluts" – and not in a Comedy Central kind of way, where people submit themselves willingly for laughs. These were intended for vicious ridicule.
Someone in that 'lad group' decided that his actions were over the line, and a screenshot of the post began doing the rounds on the Internet, with people trying to contact his workplace. Eventually the warning reached me. 
Knowing that the boy and I worked in similar industries, I decided that the best way to break ground was through a public call-out post. It blew up, and his contract was terminated.
But that was just the beginning.
Watch John Oliver discuss the impact of revenge porn below. Post continues after video…
Suddenly I was getting calls from The Age, the Daily Mail, Pedestrian – and even this here Mamamia. The post I made took on a life of its own, and before long I was staring down the barrel of not just a camera for Channel Ten's The Project, but Australia-wide media concentration and criticism. All in one short week.
I am what they call a "whistleblower".
The reactions have been fierce and divided. I've received loads of messages from heaps of people – a huge quantity of them total strangers – with opinions on my behaviour.
They're ranged from "What a swell guy"; I'm a dude with the apparent bravery to 'break the bro code' – and publicly call out another dude on shit behaviour. But there's also a stack of men in the crowd, who want to let me know that I'm a 'narc', an 'attention seeking fuckwit', and a 'piece of shit' who 'ruined someone's life'.