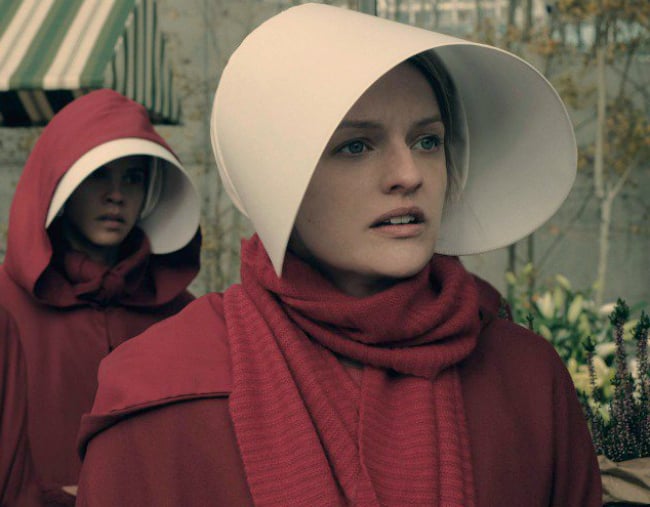 The Handmaid's Tale is one of those brilliantly crafted, heart-wrenching TV shows that sucks you into its perfectly formed world so completely, you're practically compelled to watch the entire series in one sitting.
Ever since the politically charged dystopian series landed in Australia, it's been an immense subject of discussion and debate among fans, proving that the best kind of TV shows are the ones whose essence leaps off the screen and into your real life.
The series is based on the beloved 1985 novel of the same name by Margaret Atwood, and managed to stay true to the author's original vision, characters and story, while also adding a whole other story dimension into the mix in the form of its meticulously crafted sets.
In season one of The Handmaid's Tale, every element that catches your eye has been carefully placed there to advance the story and build up the world of Gilead.
The series, which stars Elisabeth Moss in the lead role of handmaid Offred, is set in the not-too-distant future where, following a Second American Civil War, women called "handmaids" are forced into sexual and child-bearing servitude.
However, if you were so gripped by the story that you raced through the episodes and hit the finish line in record time like we did, you may have missed all the little clues hidden on screen that tell another side to this blood-curdling tale.
With the DVD release on March 14 and season two coming soon, we've dived back into season one for all the story clues that make it worth a re-watch right now:
1. Offred's bedroom is both a prison and a harsh reminder of the life she lost. 
Commander Waterford's (Joseph Fiennes) house, where Offred is being kept when we first meet her, is quite opulent and filled with creature comforts. But her bedroom is another story.
Instead of being a safe haven, it's filled with reminders of her old life and nods to the prison she now finds herself in. There's a desk in her room, but as a handmaid she is no longer permitted to read or write, so it sits there unused and reminds her of her past job as an editor, a role she will never hold again.
What's missing from the room also speaks volumes about the situation she now finds herself in. On the wall there is a faded outline that shows the place where a mirror used to hang.
The handmaids are forbidden from being vain or changing their appearance, so every way they can see their face has been removed.