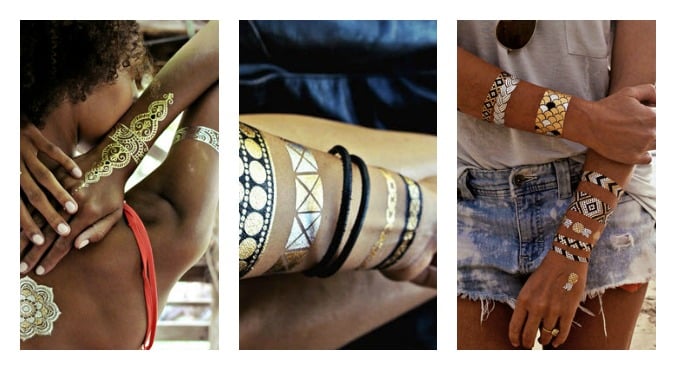 Image: Flash Tattoos
Does the thought of being able to keep your jewellery on for up to 6 days at a time appeal to you? How about being able to sleep in your chains and not have them tangle irreversibly?
Well then. Flash Tattoos may well be the answer.
'What's a Flash Tattoo, Jacqui?' you ask. Well, you, I'm glad you asked because otherwise this article would seem pretty boring for both of us. Flash Tattoos are basically metallic temporary tattoos inspired by jewellery and henna – think golds, bronze and silvers, and available in chains, rings, bracelets, wrist cuffs, earrings. even belly chains.
These blingy tattoos were originally designed for festival wear, but I can see them really taking off because, well, they're pretty damn cute. Also, celebrities including Beyonce, Jessica Mauboy and Katie Holmes have already climbed aboard the Flash Tattoo train, so the trend seems to be here to stay.
Click through this gallery to see what these pretty temporary tatts actually look like on, via @FlashTattoos on Instagram:
You're about to become obsessed with flash tattoos