In case you actually had… I don't know… plans this long weekend, you might have missed the memo that Orange is the New Black season five dropped on Friday.
Mamamia Entertainment Editor Laura Brodnik spoke to Jessica Pimentel, the amazing actress who plays Maria Ruiz on the show,  in keen preparation for the season's debut.
Listen to Laura Brodnik interview Jessica Pimental on The Binge and discover all the behind the scenes secrets from Orange Is The New Black. 
On top of giving us some very exciting hints, Pimentel revealed one of the show's most interesting filming locations, an abandoned mental institution that she described as, "super creepy and super haunted".
"This place is like – it was completely active and then everyone just disappeared in a finger snap," Pimentel said. "So there's like hand prints, and one shoe here, and a half drank coffee there. Like, what happened here?
"It just has that eerie vibe. It is really terrifying. So you see all little hand prints and stuff on the walls… it's nuts."
The exterior scenes are filmed at Rockland Children's Psychiatric Hospital, a semi-abandoned asylum in Orangeburg, New York.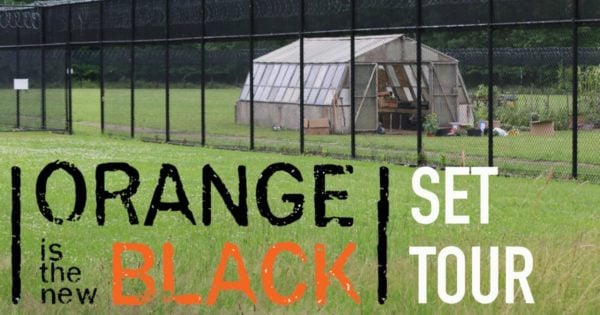 Most of the show's interiors are filmed at Kaufman Astoria Studios in Queens.
Behind the scenes, Pimentel said the mostly female cast share trailers and, "we can hear each other's music and we'll just be outside hanging out, goofing around, talking, ah, when we're in the sound stage... we all kind of move into one person's dressing room and just chill out there, but it also depends on the subject of the day."
The series famously deals with some powerful themes of sexual abuse, racial violence and mental health.
"Some days are heavier than others," Pimentel said.
"Some days are a lot of laughter, a lot of hanging out. Some days it's very silent and everyone has to stay very focused depending on what they need to do."
You can listen to the full episode of The Binge here,  for the biggest TV news of the week.