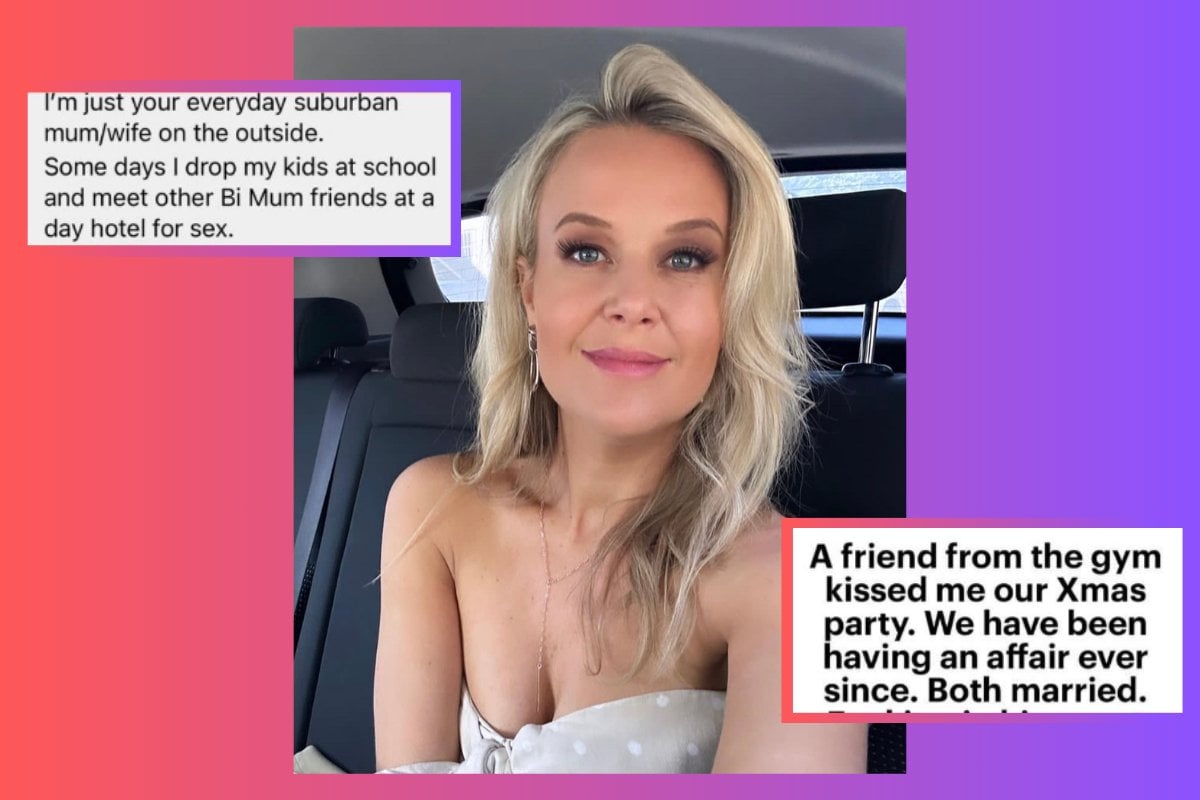 For as long as I can remember I've been curious about people's sex lives and the cheeky things we all enjoy doing behind closed doors.
I devoured Dolly Doctor in my teens, I would sneak out late at night to watch the naughty SBS late-night movies, and I binge-read Mills and Boon novels in my early 20s.
If there was something saucy going on, I wanted to know about it.
So late one night, in the midst of a very boring lockdown I decided to dive right in. I threw up a question box on my Instagram asking people to share their saucy secrets with me. And that they did!
I reposted them - anonymously of course - and was overwhelmed with tales of affairs, bi-curious adventures, threesomes, OnlyFans attempts, hilarious bedroom fails, the occasional celebrity hook-up story and many, many, kink confessions.
The feedback was so good, I ended up making it a weekly confessional every Monday night at 7.30pm (what a way to start the week).
I have discovered a lot of patterns to these secrets - a recent one is that people really enjoy getting it on outside the bedroom.
Here are a few examples of where people have got it on…
"I work in a beauty salon. A couple of times when the shop is closed, I've brought a man to the salon… I've given them an oil massage and we've had hot sex on the treatment bed while people walk past the shop outside. No one knows!"
"I'm a former PT on Sydney's North Shore. I slept with eight clients - one high-profile (single) woman almost weekly. Others were occasional, including a few WAGs of high-profile businessmen/owners and an MP... I relocated as it began affecting business. [I was in] my late 20s. Ladies [were in their] 40s/50's. Now I'm a family man."
"I work as a leasing consultant and after an open home I f**ked one of the prospective tenants in the empty apartment."
Image: Supplied.
"I was an airline hostie for seven years. I'm married with kids now, but back then, I would hook up with a fellow (female) hostie when we were on the same trips. I miss those days."
Image: Supplied.
"I was at an expensive Sydney hotel for work for a week. I had breakfast in the lounge next to a local celeb who's married. I saw her in the gym later. A quick chat over the merits of personal trainers led to her giving me her phone number. Texted her to see if she wanted a drink. Turns out she wanted a bit more. Happy days."
Image: Supplied.
"My married boss is having an affair with her married friend. They're part of the same social group and it has been going on for nearly a year. They go on separate interstate work trips but always stay together. They also have a group text with both their partners. I'm the only person who knows."
Image: Supplied.
"I had a threesome with two female colleagues (one of them was my manager) - one of the girl's husbands was sleeping in another hotel room. We're all still good friends now (the married couple later divorced)."
Image: Supplied.
"A friend from the gym kissed me at our Christmas party. We have been having an affair ever since. Both married, f**king in his car at least weekly. The sex has been AMAZING and we've said we love each other. However, were not willing to break up our marriages and deal with the carnage and heartache for our kids."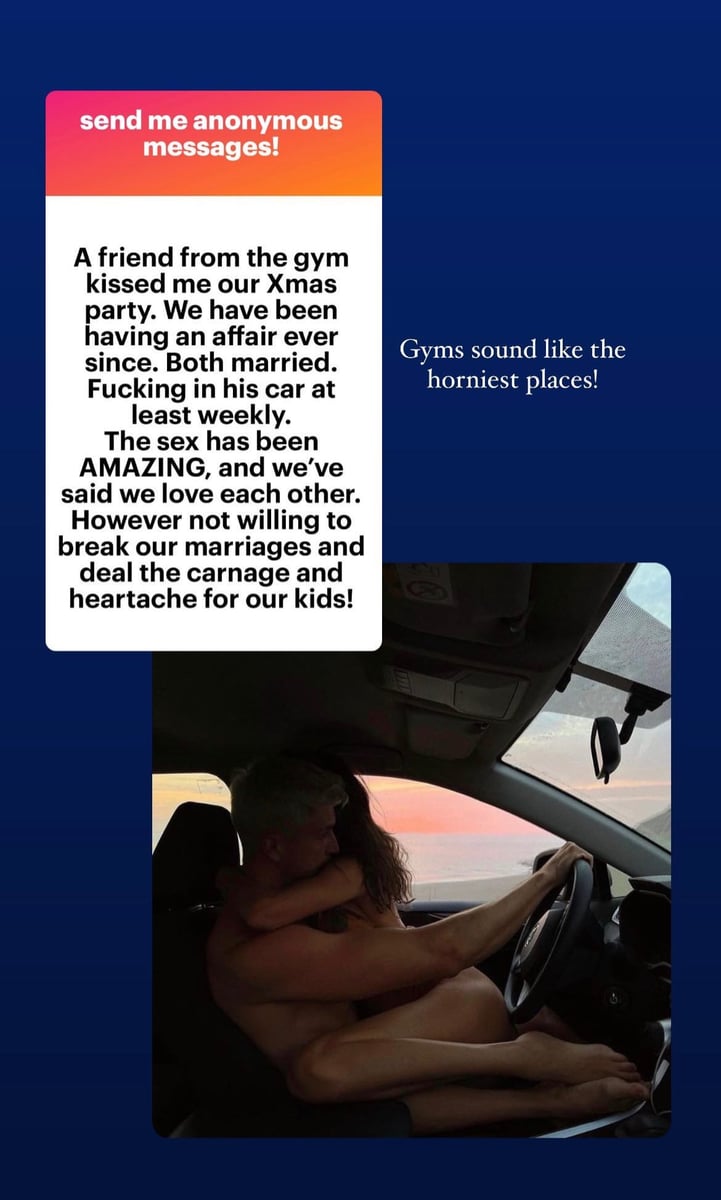 Image: Supplied.
"I was feeling frisky one night in the back of a taxi, so I straddled my man and started having sex with him. The taxi driver said nothing while we were at it, I think he enjoyed it too."
"I'm just your everyday suburban mum and wife on the outside. Some days, I meet other bisexual mum friends at a hotel for sex."
Image: Supplied.
Safe to say, for all the boring bedroom missionary positions I've been enjoying of late, there are those amongst us having an absolutely debaucherous time – and my Instagram thanks you for it.
So, cheating aside, maybe we should all venture outside the bedroom once in a while. It seems to be working wonders for my followers.
Feature Image: Supplied/Mamamia.
Do you buy groceries for your household? Take our survey now to go in the running to win a $50 gift voucher!
Unlock unlimited access to the best content for women