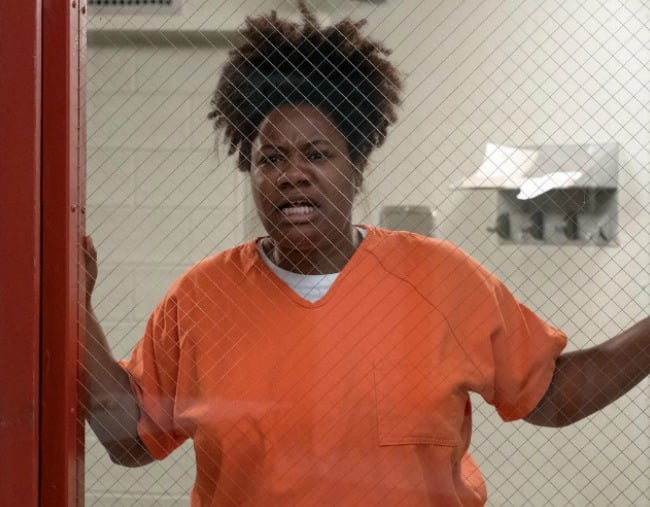 Grab your homemade shiv and meet us in the dining hall.
The release date for season six of Orange Is The New Black is just around the corner.
Yep, the orange jumpsuit-y dramedy will be dropping on Netflix on July 27, and sh*t's about to get real in Litchfield.
In anticipation of what's shaping up to be the craziest season yet, Netflix has dropped a new trailer packed full of prison-y goodness.
Litchfield is no more in season six of Orange Is The New Black…
The action packed clip shows life at Litchfield Max, the facility the inmates were transferred to after season five's hectic prison riot.
Friendships are tested.
New alliances are formed.
And the women of Litch face their biggest challenges and scariest nemeses to date.
From the trailer it looks as though Red, Gloria, Nicky, Black Cindy, Suzanne "Crazy Eyes", Lorna, and Piper are transferred to the maximum security prison, while Taystee and the others are interrogated about the riot. 
In another scene, Frieda, Daya, and Black Cindy are listed as "murder suspects" while Nicky, Flores, and Mendoza are the suspected riot leaders. 
In case you missed it, season five of the series took place in real-time over three riot-filled days in Litchfield prison.
After the death of Poussey, the prisoners took hold of the prison and started to create their own little mini-world inside the prison walls.
In the closing scene some of our OITNB favourites stood hand-in-hand in the bunker, waiting to face the riot police as they stormed the building.
So yes, it seems like season six is going to be filled with even crazier plotlines and more prison-y goodness.
We can't bloody wait.
You can stream season six of Orange Is The New Black on Netflix from July 27.