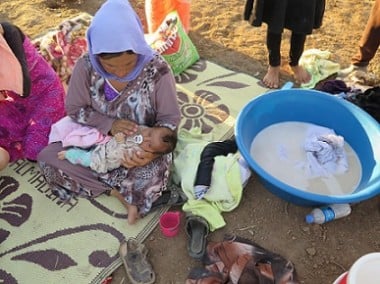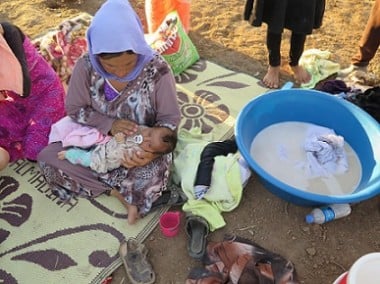 By GRACE JENNINGS-EDQUIST
The crisis in Iraq is so overwhelming and complex that it can be difficult to stomach reports from the devastated country.
It can be tempting sometimes to tune out from coverage of the crisis, what's happening in Iraq is only getting worse.
The background to this crisis is complex, but here are few key facts that will only take a couple of minutes to learn.
Amnesty International Australia's crisis campaigner Michael Hayworth told Mamamia just how horrifying the situation on the ground is.
"They've been taking women, they've been taking children"
The Islamic State (also known as ISIS or the IS) is an Islamic militant group intent on establishing its own state. The IS is the same group responsible for the devastating execution videos of US journalists James Wright Foley and Steven Sotloff –– but as Mr Hayworth told Mamamia, its sick, cruel tactics extend far beyond the beheading of those two Westerners.
"It's horrible," Mr Hayworth said. "They have been moving through villages, rounding up men, putting them in lines and shooting them dead."
"How we're describing it is ethnic cleansing. They're removing whole ethnic groups from a population and from an area (in northern Iraq)," he said.
"We've seen people beheaded, we've seen mass grave sites… We've seen thousands of people dead and we can't really see an end in sight for this conflict."
Last month, two incidents of mass killings on a single day claimed the lives of hundreds of men and boys as young as 12, Amnesty International said in a briefing this week.
"They've also been taking women, they've been taking children and abducting them," Mr Hayworth told Mamamia.
Amnesty International reports that hundreds and "possibly thousands" of women and children have been abducted since the IS took control of northern Iraq —  and that those abducted, "notably girls in their teens and early 20s," have allegedly been subjected to rape, forced to marry fighters, or sold into sexual slavery.