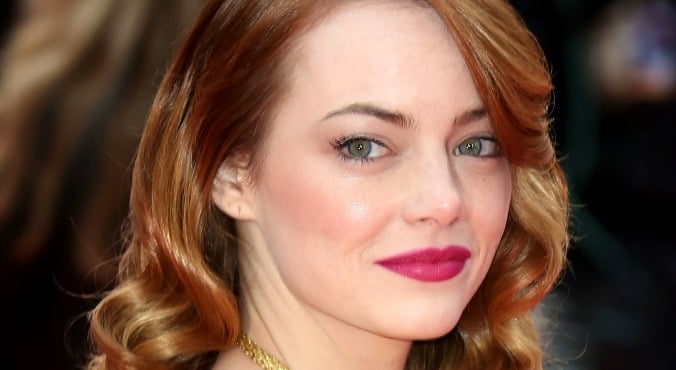 Image: Emma Stone looking beautifully blushed on the red carpet (Getty)
Remember when we were kids, running around all glowy and flushed with natural beauty?
If you do recall your gorgeous blushing cheeks? This is what we are trying to recreate as adults by putting on blush everyday – not a scary Clown Face look. We apply blush to our faces to give our cheeks colour – we want to look slightly rosy and healthy, like we've just been on a gentle ramble on a brisk morning. Finding the right blush for your skin type is immensely important; so let's tackle that together.
Dry skin
Dry skin responds best to cream and liquid blush – generally these blushes are quite thin and sheer and that lets you layer easily without the blush grabbing the skin and cracking – no one likes that 'muddy' look.
Oily skin
Oily skin suits powder blush – powders will help to stop your skin absorbing the product too quickly and the colour tends not to fade as quickly either.
Normal or combination skin
Normal/combination skin can use either product depending on your skin that day – assess how your skin is behaving on the particular day before applying.
Now, just to confuse you a little more we also need to think about what base you have underneath; as a general rule powder foundation suits powder blush and creamy/liquid foundations benefit from a cream blush. However, if you have supermodel skin and wear no foundation at all, then you will best suit a cream blush as it won't look powdery and dry on your dewy, baby-like skin.
Click through this gallery to see some of our blush picks:
The most beautiful blushes you can buy
What's your favourite blush product?
We think you'll also enjoy:
Stick blush: the surprising reason this one works
How to make your foundation last longer and look better
The 2-second cheat to getting your lipstick right, every time