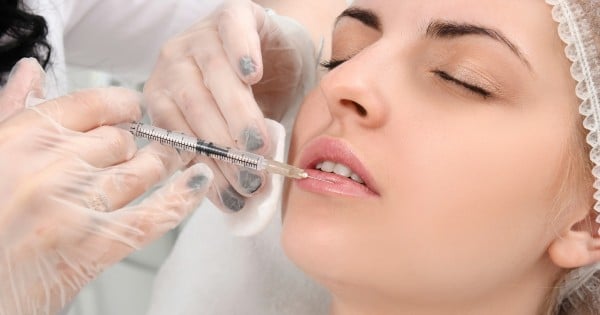 Once upon a time, cosmetic procedures were something only celebrities and those with large bank accounts submitted themselves to when fine lines, wrinkles and sagging skin started to creep across their faces.
Now younger women, free from physical signs of a life lived, are flocking to plastic surgeons and skin clinics to change their appearance.
Anti-ageing procedures? Pfft — there's plenty of time for that once you're older. No, these days women are seeking out fillers.
Depending on the doctor's approach and what you're targeting, getting fillers involves replacing (or adding) volume to areas of the face that might have lost it. While, yes, you can plump up your lips, fillers can also be strategically placed to lift jowls or eyebrows.
A few of the most popular injectables used are Radiesse, Restylane and Juvéderm. 
Dr Joseph Hkeik, director and founder of All Saints Clinic has seen a rise in the number of 20-somethings coming to him seeking fillers.
"These are women that look young but are looking to change the proportions on their face. It is done to beautify, rather than to rejuvenate," he explains. This "beautifying" comes in many different forms, the most popular of which are lip fillers.
Watch: A Napoleon Perdis makeup artist shares five common makeup mistakes. (Post continues after video.)
"Often they are looking to augment a very small upper lip in the presence of a relatively larger lower lip. Cheeks and chin augmentation are also popular, done to reshape the face to increase attractiveness," Dr Hkeik explains.
So when, exactly, did injecting our lips with Juvéderm become as commonplace as going to the hairdresser?
Louisa McKay, Managing Director of Costhetics and a consultant for plastic surgeons, believes celebrities are partly responsible.
"We've seen a rise in people in their 20s and up wanting everything; from botox and fillers to surgery. With celebrities like the Kardashians in the spotlight in a big way and the rise of the selfie, more women are opting for cosmetic enhancement at a younger age," she says.
She's right. Iggy Azalea has spoken freely about her nose job because "denying it is lame". Radio presenter Jackie O readily divulges that she had Botox because her frown lines made her look "pissed off" all the time.