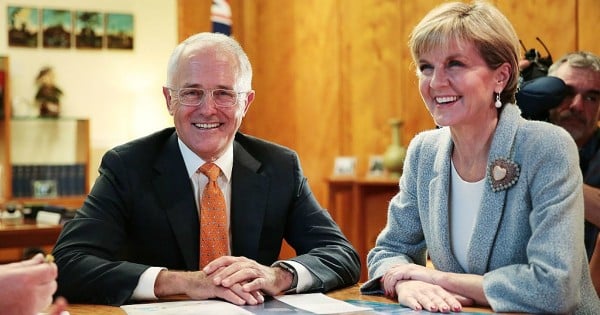 Aaaaaaand they're off!
Prime Minister Malcolm Turnbull has visited the Governor General in Canberra, and Australia now knows for sure what we'd all suspected for some time, we're heading to the polls on 2 July.
This will be the first double dissolution election in almost thirty years, which in practical terms mean voters will choose an entirely new parliament (instead of the usual full House and half Senate election).
It will be an unusually long eight-week campaign, which will no doubt leave Australians limping to the polling-booth/finish-line, too tired even to add onions to their election day sausage. In fact, it is expected that almost a quarter of us will cast our vote in advance of the actual election day, at one of the many pre-polling stations.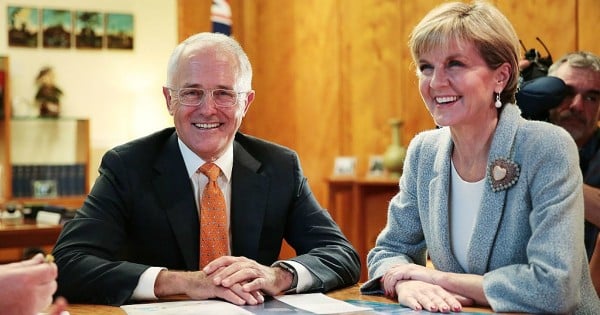 PM Malcolm Turnbull and Deputy Liberal Leader, Julie Bishop today. Image via Getty.
The parties head into the campaign period basically neck-and-neck, with the most recent opinion polls putting Labor and the Coalition at 50/50.
While Malcolm Turnbull still leads in the preferred Prime Minister stakes and is the favourite with most bookies, Bill Shorten has been setting the policy agenda of late and Turnbull certainly doesn't go into this election with the strength or popularity he once had.
This contest is anyone's to win.
So what should we expect from the two months of political hysteria ahead?
1. "

Trust

me, I'm Malcolm-freaking-Turnbull!"
Despite the shine wearing off a little, rock-star candidate Malcolm Turnbull remains highly regarded by the electorate.