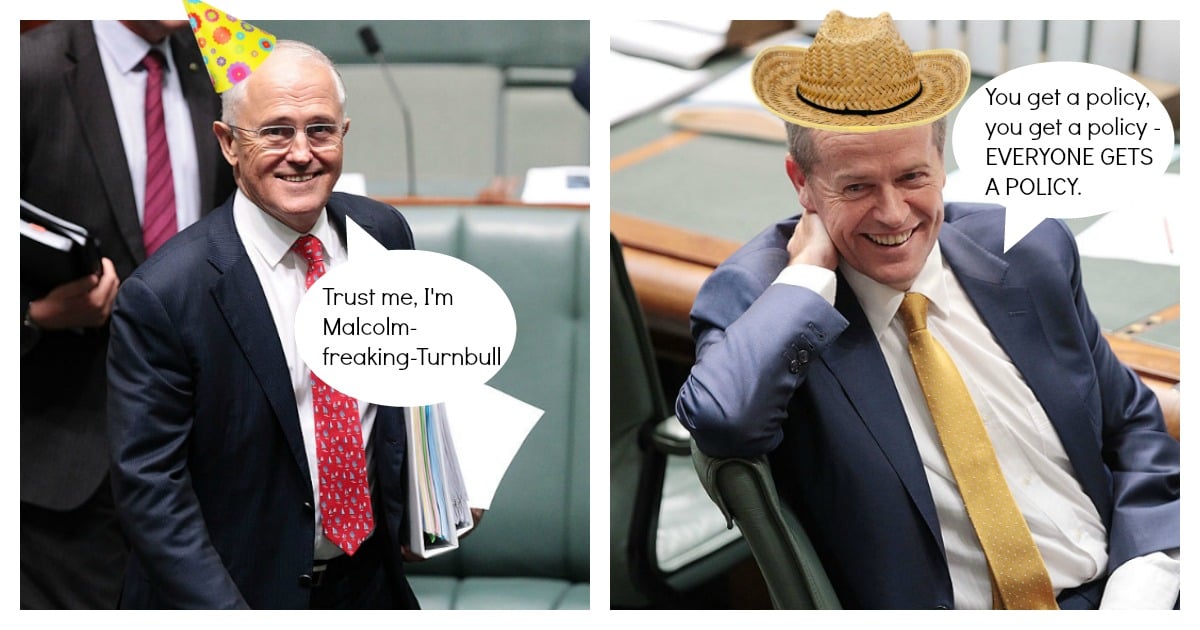 Aaaaaaand they're off!
Prime Minister Malcolm Turnbull has visited the Governor General in Canberra, and Australia now knows for sure what we'd all suspected for some time, we're heading to the polls on 2 July.
This will be the first double dissolution election in almost thirty years, which in practical terms mean voters will choose an entirely new parliament (instead of the usual full House and half Senate election).
It will be an unusually long eight-week campaign, which will no doubt leave Australians limping to the polling-booth/finish-line, too tired even to add onions to their election day sausage. In fact, it is expected that almost a quarter of us will cast our vote in advance of the actual election day, at one of the many pre-polling stations.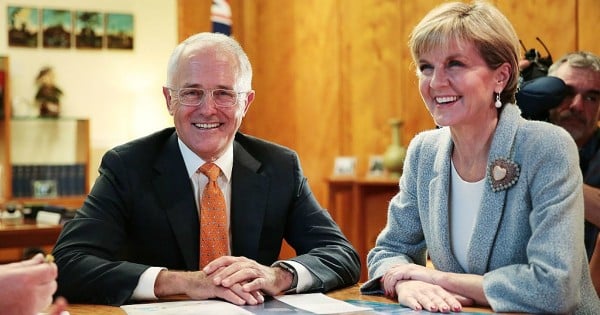 PM Malcolm Turnbull and Deputy Liberal Leader, Julie Bishop today. Image via Getty.
The parties head into the campaign period basically neck-and-neck, with the most recent opinion polls putting Labor and the Coalition at 50/50.
While Malcolm Turnbull still leads in the preferred Prime Minister stakes and is the favourite with most bookies, Bill Shorten has been setting the policy agenda of late and Turnbull certainly doesn't go into this election with the strength or popularity he once had.
This contest is anyone's to win.
So what should we expect from the two months of political hysteria ahead?
1. "

Trust

me, I'm Malcolm-freaking-Turnbull!"
Despite the shine wearing off a little, rock-star candidate Malcolm Turnbull remains highly regarded by the electorate.
He took the Prime Ministership to a loud sigh of relief across the country and that public good will remains. This means you can expect that the Coalition will run a 'presidential style' campaign; they'll focus their messaging very much on the individual man in charge.
They're hoping that the assurance of Malcolm Turnbull's polished persona and calm, authoritative style will give him the edge over Labor's Bill Shorten when voters compare the pair. In other words? Malcolm just looks and feels more prime ministerial.
Listen to our go-to political correspondent, Jamila Rizvi, talk about the upcoming election. (Post continues after audio.)
2. It's all about the money, money, money.
The Coalition have historically held the mantle of superior economic managers and they'll be looking to capitalise on that in this election campaign.
They're going to be promoting tax cuts for individuals and small business, while asking voters to decide who they 'trust' to best manage the economy. In this regard, the Coalition's campaign will be similar to the one John Howard ran successfully against Mark Latham in 2004. Labor's economic policies will be framed as risky and Bill Shorten - the man behind the removal of Julia Gillard and then of Kevin Rudd - will be characterised as untrustworthy.
Watch Bill Shorten chat to Mamamia. We highly recommend. (Post continues after video.)
3. "Same shit, different smell".
While the Coalition talk about trust, Labor will be questioning why anyone should trust a party who, until a few months ago, had Tony Abbott as their leader.
Labor will want to keep the Coalition chained to the negative legacy of their former leader. They'll be pointing to Malcolm Turnbull's inability as Prime Minister to pursue the progressive policy agenda he personally believes in.