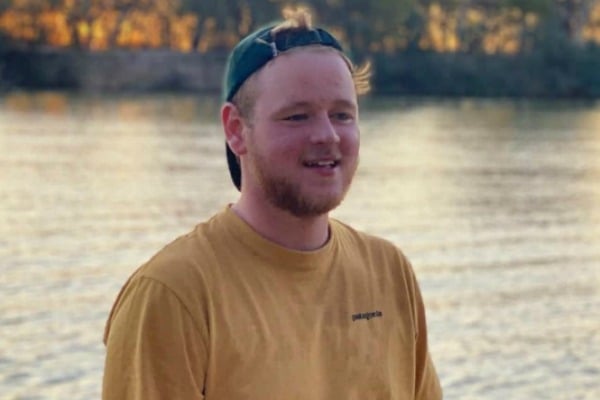 22-year-old Michael Jordan was diagnosed with leukaemia as a teenager.
He underwent months of chemotherapy and radiotherapy treatment as a 16-year-old, which culminated in a stem cell transplant in 2014 and finally the "all clear" in 2015.
It was hard and gruelling – as all cancer treatments are – but while speaking to Mamamia's news podcast The Quicky, Michael shared the unexpected side effects he experienced from the treatment.
Listen to the full chat on The Quicky. Post continues after podcast.
An estimated 150,000 Australians will be diagnosed with some kind of cancer this year. For some, it might be surgery to cut the cancer out – but for others it's usually either chemotherapy, radiotherapy or both.
Everyone has different experiences on cancer drugs, but there's so much more beyond the side effects of "fatigue, hair loss, easy bruising, infection, vomiting and constipation," which is what cancer.org warns of.
Here are just 11 things that Michael would like you to know, about what happened to him while undergoing cancer treatment.
"One of the treatments turned my urine bright red. Literally the first pee you have after it goes through is bright red, it looks exactly like blood."
"I had to flush the toilet twice after a poo, purely because your poo is known as 'cytotoxic waste' which is extremely dangerous to other people."
"I was unable to eat certain foods like salads if I was going out for meals, or undercooked meat (a medium-rare steak is off the menu), or runny eggs. You are so compromised immune system wise so basically anything with the potential to contain any germs."
"The soles of my feet went numb. They feel normal now, but I might've just gotten used to them feeling numb."
"It altered the taste of my food. So things I would normally find delicious I was completely off. You'd take a bite into it and the taste would be completely different, like someone had given me a different set of tastebuds."
"I got induced diabetes. For the length of time I was on chemo, I had to act like I had Type 1 diabetes – so having to take blood every six hours."
"I lost 20kg in the first two months of treatment. I was told chemo makes you go one of two ways you either put heaps of weight on or lose heaps. I actually did both, I lost heaps and then gained a heap halfway through."
"I lost all of my muscle. To the point where I couldn't even get out of a chair. I was pretty much immobile."
"I got 'fluid press' (or excess fluid) on my brain. There are a million possible side effects to chemotherapy and this is one that happened to me. I had to stay in ICU for two weeks, it caused me to hallucinate, and I don't remember it at all. Eventually, it just settled itself down. Half the time you're in hospital dealing with complications (from treatment), not cancer."
"My stem cell transplant changed my blood type."
"I had to have all of my vaccinations again (because of the transplant). Every single one I had ever had over my 17 years of living."
While cancer treatment was scary and hard and at times, strange, it's, of course, worth it.
Five years down the track Michael is still living cancer-free thanks to those life-saving medicines and transplant.
But for those in the midst of it, he has this advice:
"The whole big thing for me was, I tried to laugh about it. You have to have the end goal in mind. Some days it feels like an endless journey, but there are days where you get good results and you feel good and you think: 'Ok I am on the right track'," Michael told The Quicky.
As he explained, it's a tough experience, but "you just do it…you just get through it."
Feature Image: Supplied.