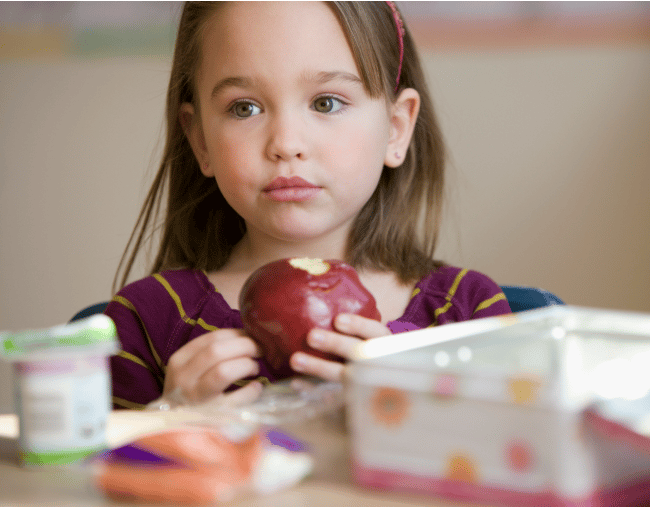 A mum has been forced to question what she packs in her daughter's lunch box after a friend told her she was "basically starving" her eight-year-old.
The mum was "shocked" by the suggestion she wasn't feeding her daughter properly, and turned to UK parenting forum Mumsnet for advice.
"Apparently this 'isn't enough food'," she wrote.
"I've just been told by a visiting friend I'm basically starving her when she saw her lunch."
If your kids are taking a popper and a cupcake to school, prepare for a note home from the sugar police. Post continues.
Her daughter, she explained, was a healthy weight and average height and she packed her: one mini pitta, six mini breadsticks, a dessert spoon of hummus, a dessert spoon of guacamole, six large strawberries and a pouch of yoghurt.
"That's fine, isn't it??"
The mum added that her daughter has yoghurt and berries for breakfast, a snack like cheese or a piece of fruit after school, a dinner of casserole, fish pie, baked potato, soup or something similar and a glass of milk before bed.
"She's fine. Always has small snacks, lunches and doesn't complain of hunger."
However, she said her friend was "aghast" and told her that at 18 months old her children were eating more than what she packed for her daughter's school day.
Other parents agreed that the portion did seem small.
"If its enough for her then its enough for her but no way would that have filled up any of my [child] at that age," one parent wrote.
"My seven and nine year-old would still be ravenous after that! It would fill the two-year-old though as long as you added some cheese or ham!" another shared.
"I don't think it sounds like much either to be honest, but you know what's best for your daughter's eating habits…so…"