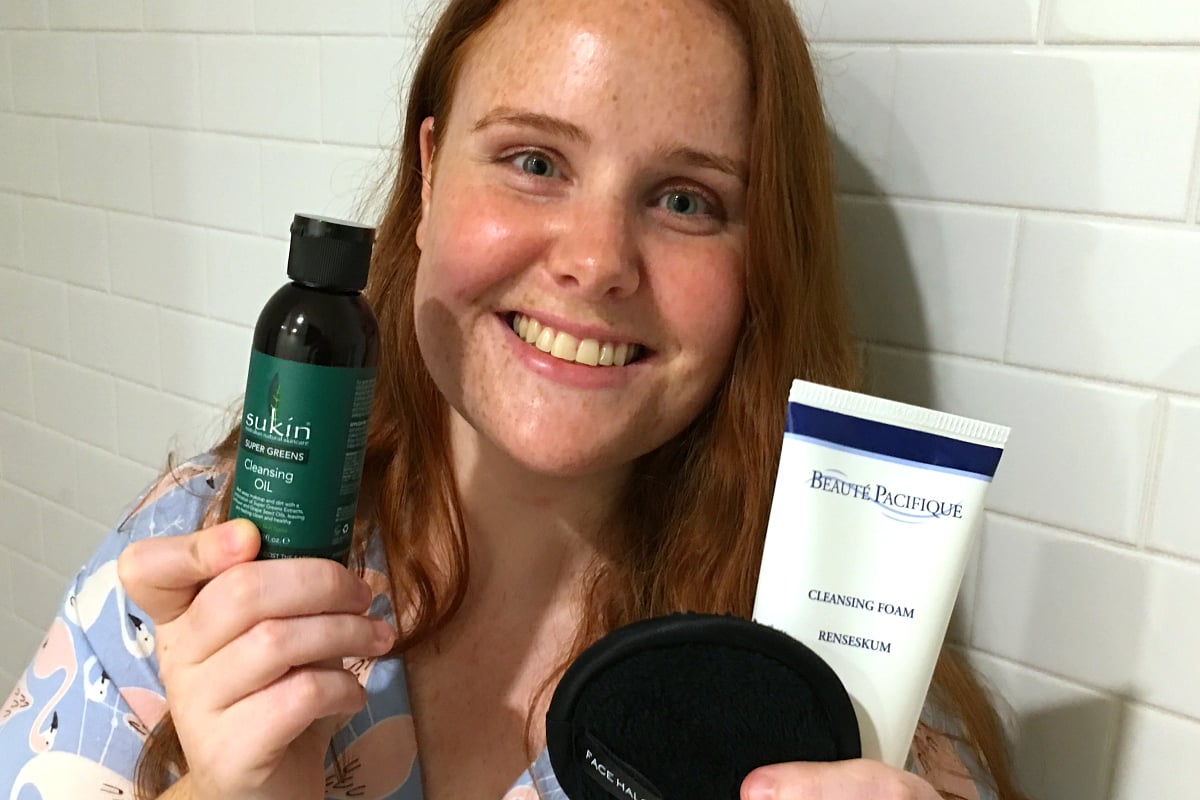 Today, let's talk about triple cleansing, the supposedly expert-approved way to wash your face.
As the name suggests, triple cleansing involves cleansing one's face not once, but three times. Yep. Our faces are so dirty, so filthy, only the degreasing power of three different face cleansing products will do. Apparently. 
While having a squeaky clean face does sound lovely, do we really need to wash our faces three times every single night to get one? Is triple cleansing worth the extra time, effort and money, or could it make your skin worse?
To find out, I spoke to a dermatologist and put my own face on the line for a week triple cleansing.
Here's how my face and I went.
What is triple cleansing?
In short, triple cleansing involves washing your face… three times. Every night.
Triple cleansing takes things one step further than double cleansing – the Korean K-beauty skincare trend based on washing your face twice. Think of it as double cleansing's complex, materialistic younger cousin.
She's deep and wants to get under your skin, literally.
While double cleansing involves first washing your face with a cleansing oil to thoroughly remove makeup before going in with a water-based cream or foaming product for a second cleanse, triple cleansing adds a 'crucial' third step.
To triple cleanse, you first need to use a cleansing wipe to remove your makeup, then a cleansing oil to remove the makeup the wipe didn't catch, and finally, the water-based cleanser.
It's a lot.
Side note – if sorting your skincare routine feels overwhelming, Mamamia's Leigh Campbell can talk you through exactly where to start on the You Beauty podcast. Post continues after audio.
Are there any benefits to triple cleansing your skin?
When I asked Australasian College of Dermatologists' Dr Catherine Reid if triple cleansing would enhance the look and feel of my skin, she was confident it would not. Not even in the slightest. In fact, the Adelaide-based dermatologist went as far as to say she wouldn't recommend triple cleansing to her patients.
"Triple cleansing is not something that I would recommend as a dermatologist. I don't believe there is any scientific evidence to suggest triple cleansing is necessary, or that it improves the skin health," she told Mamamia.
The only exception to this would be people who need to wear a lot of makeup for work, like actors, journalists or TV presenters. For the rest of us, Dr Reid doesn't believe there's any benefit to cleansing three times every night. For some people, like those with excessively dry, oily or sensitive skin, it might make their skin worse.
In her opinion, cleansing is an individual process and people should "stick to what they know works for them".