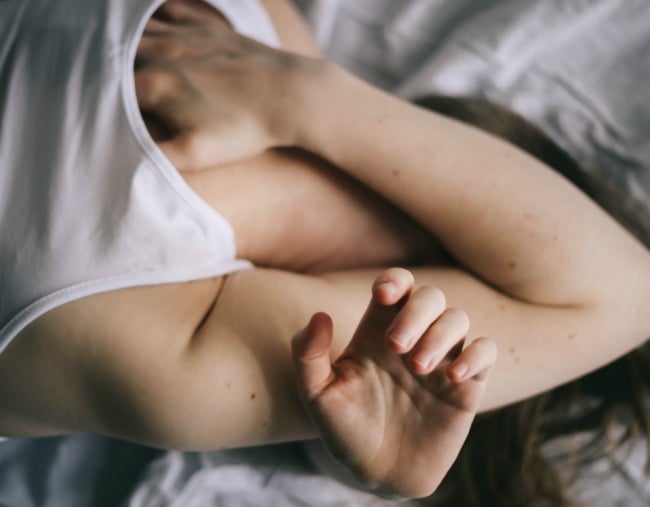 I have been curious about the art of tantric sex for years.
I'd seen photos of couples gazing into each other's eyes, with the woman sitting atop her partner as they made love. I wondered what all the fuss was about. My greatest obstacle to a tantric experience seemed to be finding a partner as interested and curious as I was.
Not one of my lovers had been the least bit willing to take a peek into this world that seemingly would open a whole new door to orgasmic pleasure.
Facebook changed all of that.
I stumbled upon a group of women claiming to be wildly orgasmic and pleasure driven. They called themselves Blue Butterflies, and everything in their lives seemed to circle around the concept of being a juicy, luscious and powerfully orgasmic woman.
Speaking of orgasms, here are a bunch of strange ways women experience pleasure. Post continues after video.
I was skeptical, but it sounded too good not to investigate further. I soon learned that I had hit a pot of tantric gold. Several of these ladies were tantric students and teachers, and most had experienced for themselves what I had only imagined was possible. On YouTube, I watched videos of women laying on massage tables completely clothed, as a man beside the table held his hands several inches above their bodies.
Within moments these women would start shaking and gyrating as if they were having the most intense orgasms.
Recently, a friend invited me to see a man named Nityama, a tantric guru, at a live event in Los Angeles. I was eager to attend and, if possible, to get on the table as a volunteer. The crowd was young and seemingly progressive. Nityama spent much of the evening speaking about the powerful energy within a woman's body, and what a gift it can be to have a partner who understands female orgasm.
At about 9 p.m., he pulled out the table. I raised my hand with several other women to volunteer. There were about eleven of us anxious to experience ecstasy — fully clothed and untouched.
I watched as one woman after the other got onto the table and within minutes was in full orgasmic state.
I mean, they were clothed, while Nityama stood above them with his hands never closer than six inches.