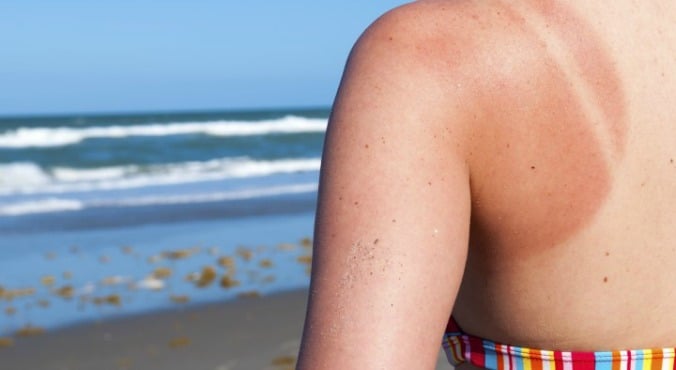 Image: iStock
By H. Peter Soyer, The University of Queensland and Katie Lee, The University of Queensland
Most Australians are familiar with the painful red skin, blisters and peeling that follow too much time in the sun. Last summer, 2.4 million Australian adults were getting sunburnt each weekend.
But what's actually happening in the skin during a sunburn?
DNA damage
Sunburn is a radiation burn, caused when the ultraviolet (UV) rays of sunlight damage DNA in the upper layer of skin cells. The sun emits three kinds of UV radiation – UVA, B and C.
UVC is mostly absorbed by the earth's atmosphere, but UVA and B rays reach the ground and can penetrate unprotected skin. UVB penetrates the epidermis, the top layer of the skin, while UVA goes deeper.
The particles that transmit light (photons) from UVA rays interact with the skin and this damages the skin's proteins and membranes, as well as DNA. Photons from UVB rays are absorbed by DNA itself, and the extra energy can cause some of the DNA to link up incorrectly.
This stops accurate DNA replication, so cells start repairs to try to fix the mistakes. Too many DNA errors overwhelm the cell and cause it to begin to self-destruct, to remove cells that can't be safely replicated.
Watch: Tips on how to have a healthy holiday – with plenty of sunscreen! – from Paper Tiger. (Post continues after video.)
Immune invasion
Once the cells of the top layer of skin (called keratinocytes) detect DNA damage in themselves, they begin producing molecules to attract immune cells into the skin. This causes the skin's blood vessels to leak into the spaces between cells and other skin structures.
It's this extra fluid and the swelling it causes that lead to the red skin, hot sensation and painful sensitivity of freshly sunburnt skin.
Immune cell invasion begins while you're still sitting on the beach, but increases about an hour after you come in from the sun. The process peaks 24 to 48 hours later, which is why the redness and painfulness of a sunburn can keep developing for a couple of days.
Some of the immune cells start cleaning up skin cells in self-destruct mode, while others release chemicals that further damage weakened cells. Their actions may also trigger a kind of allergic reaction that makes the skin itchy.
Within several hours, blisters form where whole layers of keratinocytes have been killed. The dead layer lifts away from the layers underneath, and the space between fills up with the fluid that has leaked into the skin.