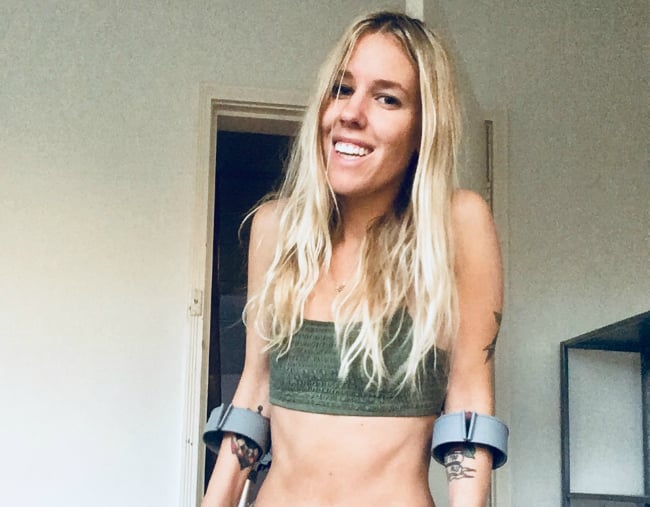 Last night I had to ask my best friend for help taking off my bra – and I wasn't even drunk. I had tried to do that thing where you keep your top on and slide it off down each of your arms, only I forgot that my fingers don't really work anymore.
I was stuck before I even began.
I thought about how much worse it would have been if I had been trying to do this sexily in front of a guy (albeit in that instance I would hopefully not have approached it in such a convoluted way).
I'm suddenly single now- my upstanding boyfriend left me because my new-found illness didn't exactly suit with his plans to go to Mexico – so these are the things I think about. I'm totally down for dating, I've always been a kind of pro at it, but now I feel like I'm unintentionally being a Catfish.
In static six swipeable picture form, I look the pinnacle of good health – blonde, tanned, prancing about in a bikini – I probably couldn't look more Bondi if I tried. But now I walk with a limp. And it's not a sexy 'just burnt my leg on a motorcycle exhaust pipe in Bali, we've all been there ha ha' kind of limp – it's a deep set, off kilter not going anywhere kind of vibe.
No guy wants to see the bubbly girl he had made small-but-flirtatious talk with for three days on a sex app come hobbling towards him with a pirate gait (unless it was that kind of app I guess).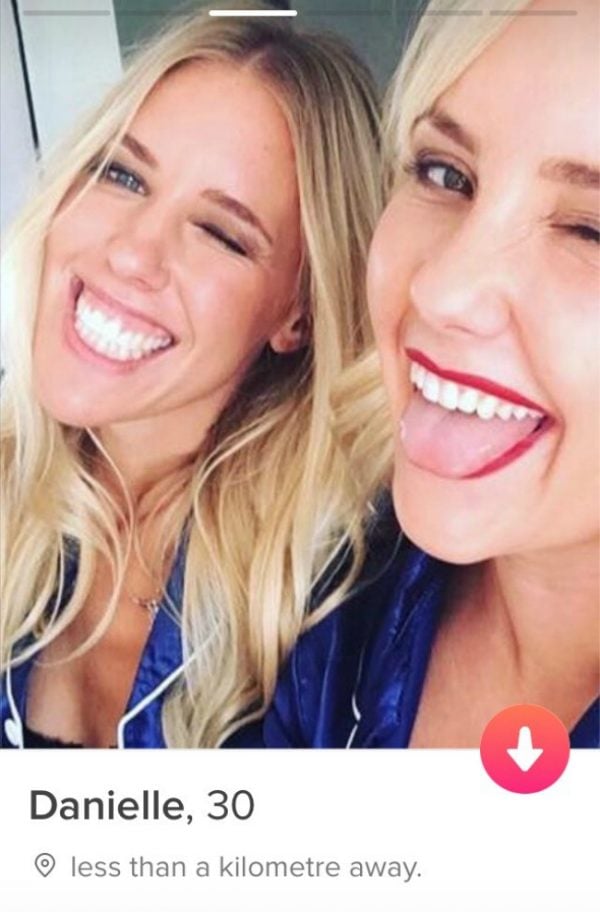 See, earlier this year I got arthritis. I was 29.
It came on overnight, my knee swelled up like I had a blossoming case of elephantiasis, and after a couple of confused and misguided GP and physio appointments, I ended up in hospital unable to walk at all.
I was in the UK at the time and they promptly shipped me back to Australia, because the NHS had a limit to how motherly the motherland could realistically be when you're not paying for your hospital bed. Within a few weeks, the same Arthritis that had come on more suddenly than a pimple overnight, had travelled into my feet, my wrist and fingers. I couldn't brush my hair or hold a toothbrush.
Luckily, I also couldn't walk so I didn't really have anywhere to go that I needed to look good for – silver lining or what.
If you're anything like me, and not actively engaged in the world of rheumatology and joint health, you might be thinking WHAT THE HELL? SINCE WHEN DO YOUNG HEALTHY PEOPLE JUST 'GET' ARTHRITIS? ISN'T THAT WHAT MY NAN HAS? DON'T I HAVE LIKE A SOLID, 20 YEARS BEFORE I NEED TO START JOINING THE AQUA AEROBICS GROUP FOR SENIORS WITH ARTHRISIS CLUB?
Yeah, same.
But turns out there is something called Reactive arthritis, which occurs because of an infection that you get elsewhere in your body. It could be food poisoning, it could be from a UTI, but most commonly its caused from an STD like Chlamydia going haywire/untreated. WHO KNEW huh?
After a long diagnostic process, they put my case down to a bout of dysentery (potentially contracted in an earlier trip to Sri Lanka) which disappeared long before the joint issue began. But now, seven months later, I'm still suffering life changing effects of it.
I'm on a cocktail of medications that sees me popping pills at the rate that most people check their Instagram, including an autoimmune suppressant also used in higher doses to treat people with cancer.
In true millennial style, I've tried everything that I've ever seen a blogger mention – acupuncture (a very slow burn but seems like it could be on to something), colonic irrigation (completely traumatic), vitamins, AIP diets, a trip to Europe to escape the harsh colds of winter (admittedly that was a little excessive), but it looks like my chronic joint pain is here to stay.
I have an awesome job in the music industry and going to work keeps me motivated to suck up the pain and get on with it, knowing mental distraction can be the best medicine, but it still hurts more than just my bones when I watch my friends go out for after work drinks, dances and dates, and I go home to switch on my electric blanket.
Obviously, contracting something suddenly that would switch the trajectory of my life was a shock, but the thing that surprised me most of all was how little awareness there is of this disease and how prevalent it has the potential to be – especially with most people happily sleeping around, unphased by the risk of Chlamydia because 'you just pop two pills and it's cleared up' (if I had a dollar for any time a guy tried to use this as an excuse to not wear a condom…I would maybe be rich enough to cover my doctor's bills).
It's way more common in men, and primarily people between 20-40, yet not one man I have spoken to has ever heard about this risk.
So I guess the moral of this story is; practice safe sex kids – it's much better to be fumbling with a condom wrapper for seconds than with bra strap for life.