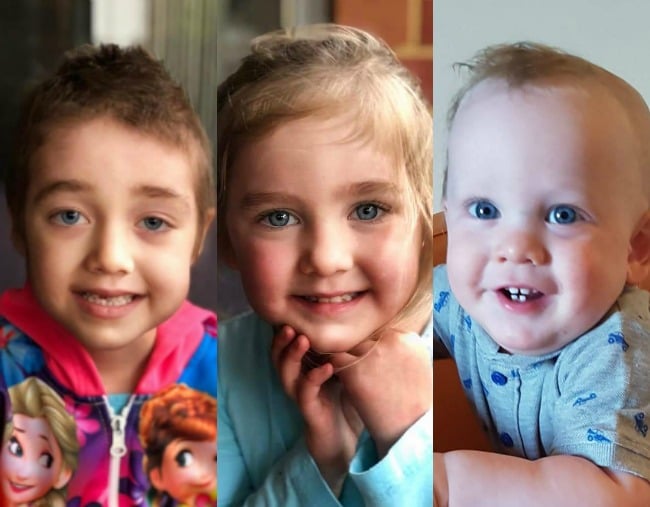 Simon and Samantha Daff have three little kids. They each have matching blue eyes that pierce you when they open and huge smiles that push their tiny cheeks to the sides of their faces as they grin.
Kenzie is a happy four-year-old and she loves to dance. Ashlee is three and is astoundingly kind, her mother tells me. Little Jackson is nearly one and the "sweetest kid".
Simon and Samantha Daff have three little kids, and may well grow old without two of them.
A year and two days ago, on the 26th of October 2016 and on Simon and Sam's wedding anniversary, the couple were called in to a local Perth hospital "unexpectedly", three months after they first noticed Kenzie had developed a sudden and inexplicable limp.
"They had called us the night before to make sure that we bring support people to the meeting. I knew this was an indication that we were dealing with something serious but despite my many calls back that evening they couldn't tell me on the phone. So, I spent the entire night on the internet looking up what it could be," Sam tells Mamamia.
"When the doctor said the words Metachromatic Leukodystrophy (MLD) I already knew exactly what it was and that it was terminal. I went numb. I also knew it was genetic and that my kids had a one-in-four chance of also having it. I don't remember crying when they told us, but I do remember declining to take a small break to process the news. I instantly wanted to start talking treatments."
There is no cure for MLD. The disease is part of a group of genetic disorders called the leukodystrophies, which are characterised by the toxic buildup of lipids. Symptoms include muscle wasting and weakness, developmental delays, progressive loss of vision leading to blindness, impaired swallowing and inability to control movement.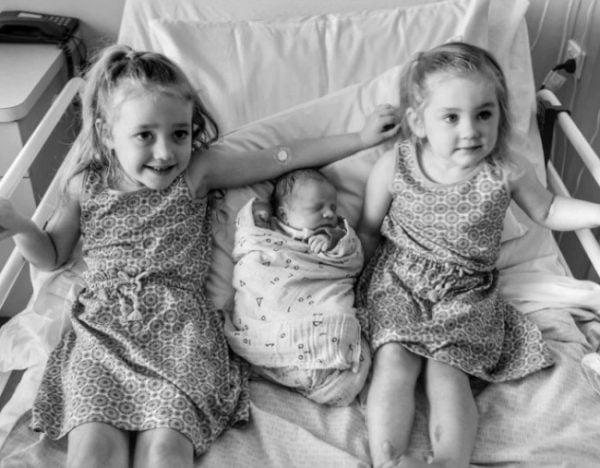 Kenzie did dancing, went to pre-kindy and - other than an awkward walking gait - was a completely normal three-and-a-half-year-old. But somewhere, somehow, Kenzie was given a diagnosis that estimated she would not grow older than eight years old.
"It was hard to fathom how our seemingly healthy, normal little girl could have a terminal disease."
That evening, Sam went home and played barbies with her little Kenzie. When Ashlee and Kenzie were put to bed, she took herself to bed and "cried most of the night". She cried for Kenzie, cried for Ashlee, cried for their family and cried for the unborn baby whose fate they couldn't yet determine.
Because as Sam navigated how to communicate to her three-year-old, soon-to-be four-year-old, that the world's ways had veered off course, she was eight months pregnant. The statistics told her that her children had a one-in-four chance of having the same terminal diagnosis.
A month later, Jackson entered their suddenly rocky, uncertain world.
"I gave birth to my son - the hardest day of my life - and weeks later learned that he also had this cruel disease. Thankfully, Ashlee does not. At this point we were told to go home and enjoy what ever time we had left as a family of five before inevitably the children's conditions progressed to the point where they could not walk, see, speak or swallow. Life expectancy is usually five years after symptoms present."
When they caught Kenzie's diagnosis, it had not yet reached her brain, meaning she was eligible for treatment that, at the very least, slows progression of the disease.
"This treatment is brutal and involves harsh conditioning (chemotherapy) and months in an isolation room (57 days) following the transplant. She got through the treatment but lost her ability to walk. We were told she would probably not regain this ability BUT she has worked unbelievably hard at therapy and is now walking better than she did before the transplant. She has exceeded our expectations and that of her medical team," Sam explains.
"We have some hope that she will have a better quality of life now."
Soon after Kenzie went in for her invasive treatments in February this year, Sam read about the success of a gene therapy in a trial for MLD in Milan.
"I reached out to them daily, for weeks, trying desperately to get both children accepted but unfortunately due to Kenzie already having symptoms she was instantly declined. We waited seven long months to learn that Jackson was accepted and basically is getting the opportunity to completely prevent the disease from starting. He is the 28th child in the world to receive this treatment."
It's a complicated, desperately sad reality, Sam notes, that almost every one of these 28 children has had a sibling rejected from the same treatment they've been approved to receive. There is no newborn screening for MLD, which means the babies that have MLD have only been diagnosed because a sibling has alerted the family of the genetic disposition. And in Milan, the treatment is only available to the little ones who aren't yet showing symptoms.
"It's devastating that one child dies but in the process saves the life of their sibling. It's heartbreaking."
Treatment in Milan is expensive - cripplingly so - and has meant the family have had to take out loans, borrow from family and put their home on the market. It has also meant the family have had to split up - with Simon staying in Perth to work - for six months, as they wade through vulnerable waters of invasive treatments and hold onto hope that something - anything - works.
"My daughters, my mum and my sister are all in Italy. My husband unfortunately is still in Perth as he needs to work. Treatment cost us $225,000 up front, plus renting and living expenses in Milan for six months. We will also be required to fly to Italy up to twice a year for the foreseeable future. [It's] a small price to pay for the chance we are giving our son but it is financially crippling at the same time. We have had to take out many loans from family who are now financially vulnerable waiting for us to repay them, our family home is on the market and we will be starting over when we return to Perth in February 2018."
It's almost impossible, Sam says, to watch your child suffer. The treatment is brutal and unrelenting.
"I have had to hold my screaming child down for procedures more than any mother should. But they are amazingly resilient. They give me strength. My family has been an incredible source of strength for me. Particularly my mum who quit her job to help us. I'm so grateful to them for the way they have made this journey easier on us. Family is everything. I wouldn't have got through this without them."
Then there's Ashlee. Healthy Ashlee, who is surrounded by the chaos that is her siblings' illnesses.
"Our unaffected daughter Ashlee has had her world turned upside down too. She was not even two-and-a-half when her sister was diagnosed and she has often been without her mum or dad since. I often feel she is kind of the forgotten one in this nightmare as she is physically healthy. I'm desperate to get her home and into a routine. She has been absolute trooper though, she's become a very compassionate, thoughtful little girl who helps her sister a lot."
Though the family have no certainty as to how many days Kenzie and Jackson will be well, they do not let fear, worry, and the intensity of their sadness consume the time they do have.
"I think we decided unconsciously that we were not going to let our sadness consume us and rob us of the days where Kenzie is OK. Time is precious, we learned that the hard way. We don't want to waste a single minute we have with her so we have spent the last 12 months making memories for all three kids in between treatment. We have flown in a helicopter, been horse riding, been to Disneyland, had a huge princess party [just] to name a few...
"So, the days were easy because we were busy and happy. But the grief Simon and I experienced at night was all consuming. It is still like that for me one year on."
In a world where few things make sense, and in a reality where the future is blurry, uncertain and desperately scary, the Daff family have very little power over the only thing they've ever wanted: the health of their three children.
It's unfair, of course, that in trying to think of a world that exists without their two kids, they have the extra burden of worrying about financial security too. But perhaps that one's for us: to chip away, by donating to their GoFundMe page, to a cause that could well save the lives of two happy, bright-eyed children.
Because at the very crux of this are two unrelenting, dedicated and resilient parents fighting - with every ounce of stamina - to ensure what's only fair: Their children's right to grow old.
You can donate to the Daff family by visiting their GoFundMe page here.