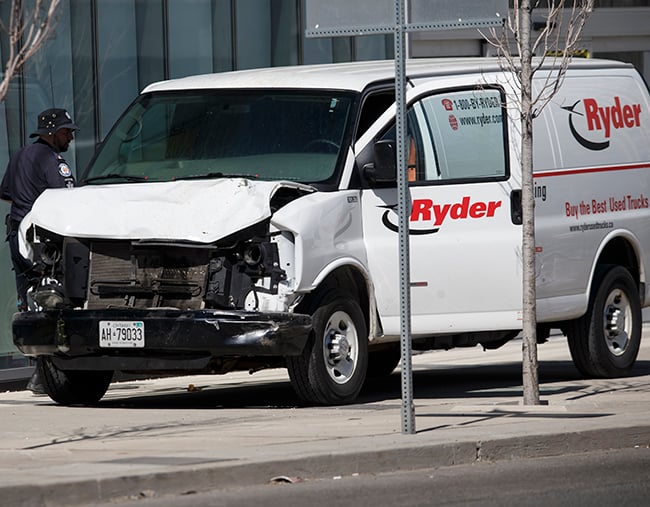 He was pleading with police officers to shoot him, this man who is suspected of ploughing a van into crowds of pedestrians in Canada on Monday, killing 10 people and injuring dozens of others.
"Kill me," Alek Minassian can be heard saying to the police officer in a video obtained by CBC News.
The officer replies: "No, get down."
When the suspect warns, "I have a gun in my pocket," the officer responds: "I don't care. Get down."
What drove this man, a 25-year-old who was once in the military and whose friends thought was harmless, to kill those innocent people walking on the sidewalk of a busy Toronto street?
Those targeted were predominantly women, the BBC reports. But the driver wasn't discriminatory in age, and the victims range from their 20s to their 80s.
We don't know the darkness within Minassian, driving him to such extreme violence and desperation for his own life to be over, too.
But there's one clue as to what was running through his mind as he accelerated that white van through the terrified masses: It appears it was terrorism stemming from sexual frustration.
Minutes before the attack, The Independent reports, Minassian posted to his Facebook page a cryptic message applauding the "gentleman" Elliot Rodger – a sexually frustrated man who killed six and wounded 14 in California in 2014, Vox reports – and pledging his allegiance to the "Incel Rebellion".
The post, which has been verified by Facebook and published to the BBC, reads:
"The Incel Rebellion has already begun! We will overthrow all the Chads and Stacys! All hail the Supreme Gentleman Elliot Rodger!"