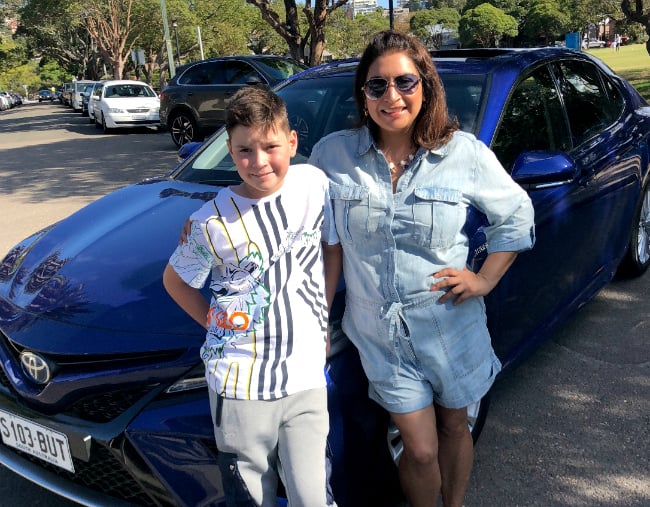 Hi, I'm Nama, and I'm new to Sydney. Brand spanking new. Five-months-old new.
It's just me and my 11-year-old son here; our little family, spending our weekdays at work and school, and our weekends getting lost.
I don't mean that as a metaphor. I mean I literally get us lost pretty much every weekend. Sydney is huge, especially to a girl from Adelaide. I'm still learning about the different areas and suburbs.
People warned me about how big Sydney is when you aren't just a tourist, but actually live here. I didn't believe them. But when I find myself taking the wrong exit and 20 minutes away from where I'm meant to be, on a regular basis, I'm feeling the expanse.
And I'm feeling the pinch. Or, more to the point, my petrol tank is feeling the pinch.
So when I'm offered the chance by Toyota to drive a hybrid car for a weekend, I jumped at the opportunity to take it for a spin. Because my understanding of a hybrid is simply that it's a car that uses a combination of petrol and an electric battery to run, so it's really fuel efficient.
Even better, I discover that this hybrid has a battery that recharges as you drive. Wait…what?
Here's how it went down:
Friday arvo: Pick-up and #weekendgoals.
The first thing I do when I get the car is the most important thing when driving a car these days: take a driver's seat selfie.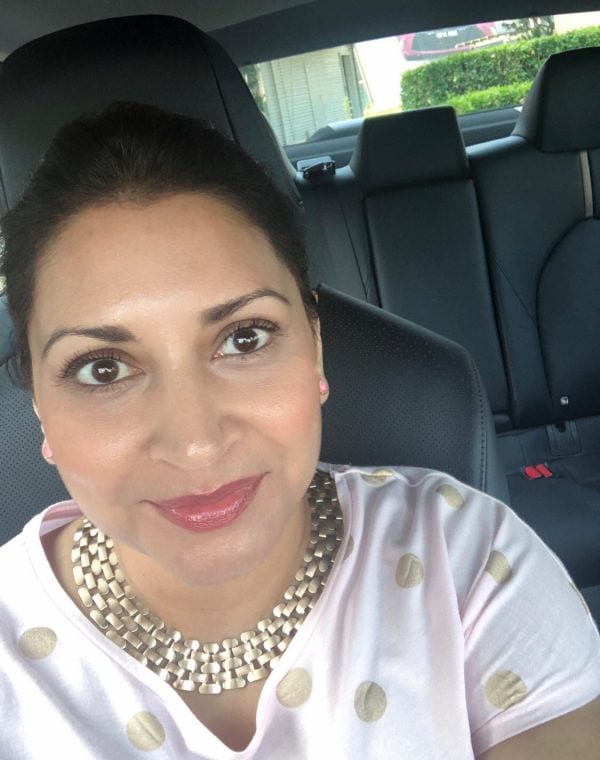 Then I take a look around. Fully electric sunroof. Touch screen controls. Bluetooth®* that connects instantly to my phone. Front seats that adjust at a flick of a switch.
All very easy and quick. So far, so good.
I press the start button, put my foot on the brake, and whack it into drive. With a smooth acceleration, I'm off to take the car to the person with the most opinions in the family: my kid.
He's at vacation care because it's school holidays, and in lieu of going on an actual holiday, he's pretty excited about being able to trial a hybrid car for a few days, especially because he's into anything that's about sustainability and looking after our environment.
For example, he's already eager to use less petrol for the weekend, knowing that hybrid cars put out less fuel emissions than standard ones. What would I do without Google teaching him this stuff?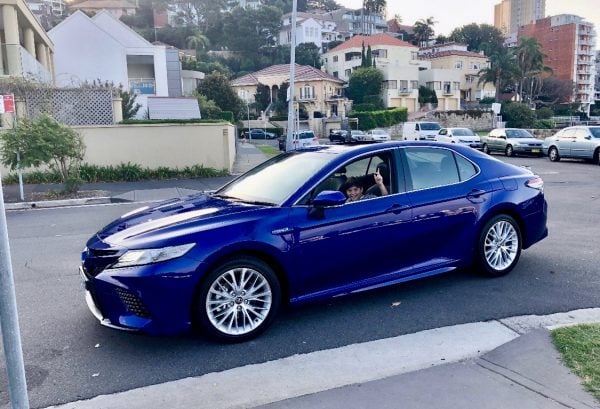 Anyway, I don't tell him at first that the car is silent. I mean you cannot hear it function or even move. The car literally whispers and glides along the road when in electric mode. So when I start it and drive off once he's in, he's in absolute awe.
"Mum, this car is magic!"
And his raving is the only thing that interrupts the peace and quiet - apart from Macklemore.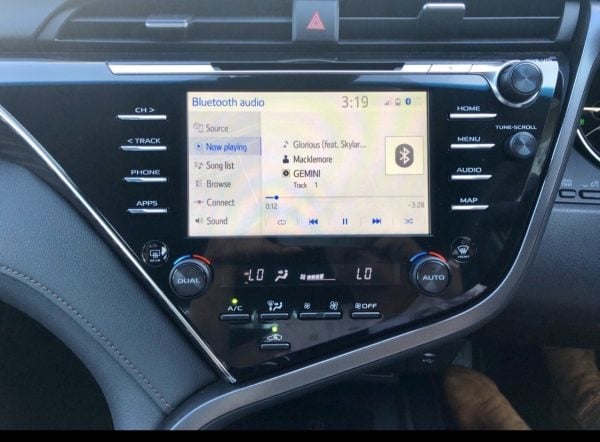 And then we head the short distance home to partake in our usual Friday night ritual: Netflix and chillaxing.
Saturday morning: To-do list conqueror. Going further.
The most fun part of motherhood is constantly running errands - said no-one ever! But getting stuff done is a necessity of life, so on Saturday morning, we take the car to get stuff done.
We have to do the groceries, get a guitar fixed, return some library books, collect the dry cleaning, and see some friends...but first, there's the mandatory family photo: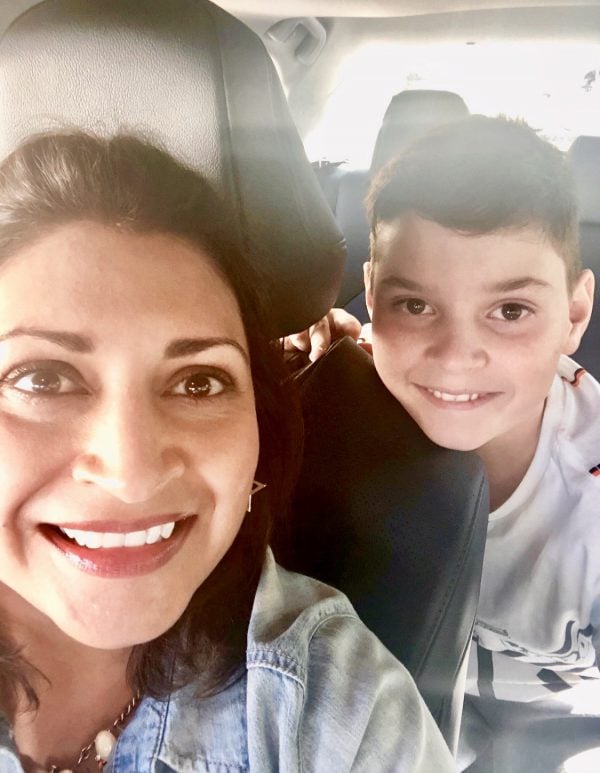 And then there's extensive discussion (and mild panic from me) about the location of some of the things on our to-do list. Because some of them are in suburbs I've never even heard of.
And while I'm slightly panicking, and checking Google Maps, my kid, who's pretty much my height, sprawls out in the back seat and settles in for the drive. The cabin is roomy, even with a B.O.B. (battery on board - or more accurately, tucked safely under the back seat). Nice life if you can get it, buddy.
Much to my utter relief and unadulterated pleasure, I find the car's navigation system** as easy to use as my phone.
This is good, because the guitar-fixing place is over the Sydney Harbour Bridge, deep into the north shore, about 45 minutes away. So I type the address into the car's GPS, remind myself that I've been driving for 25 years and I can do this, put on Queen's 'Don't Stop Me Now', and go forth and conquer.
It's in that moment of utter relief that I decide to call the car Hilary the Hybrid: the ultimate symbol of feminine can-do and hope in 2018!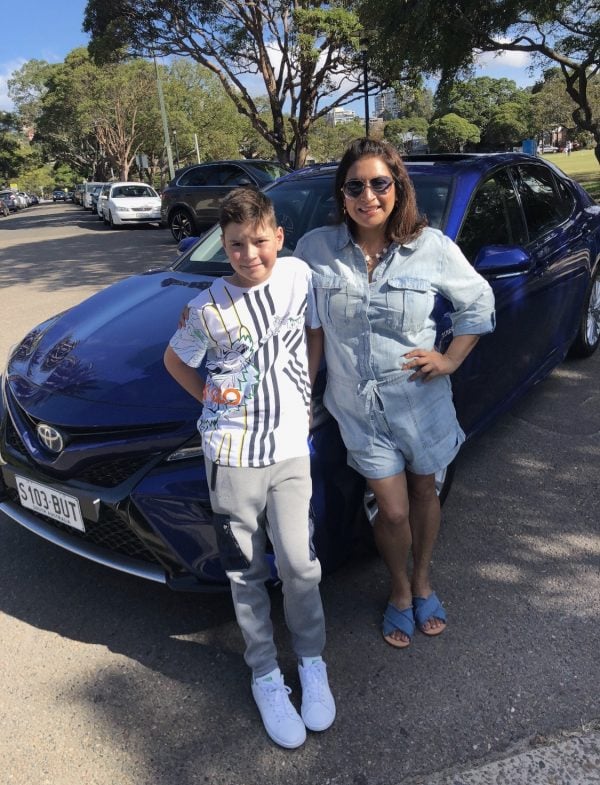 Still basking in the afterglow of not getting lost, but now back closer to home with a boot full of groceries (thanks to the deceptive amount of boot space), I ponder a couple of things:
a) The petrol gauge is exactly the same, and b) Hilary is solid, but certainly not so heavy that she can't give some speed. We'd driven on some open roads where we'd hit about 70 km/ph, and I honestly just felt a little bit like a (completely legal and sensible) race-car driver.
Also, I just love knowing that there's an electric battery being recharged as I drive. I don't have to worry about filling up on petrol as often as a full-petrol car. Of course, that means more money to spend on myself *ahem* I mean, my son...
It's at this point I decide that I can now officially refer to myself as a native of Sydney. But of course, I speak too soon...
Saturday arvo and evening: Leisure without getting lost. Easy, right?
We decide to hit the park for a quick skate and milkshake. And then, it's time to go home and clean up so we can get to our friends' place for dinner in time.
The address? Over the bridge again...and this time, at night...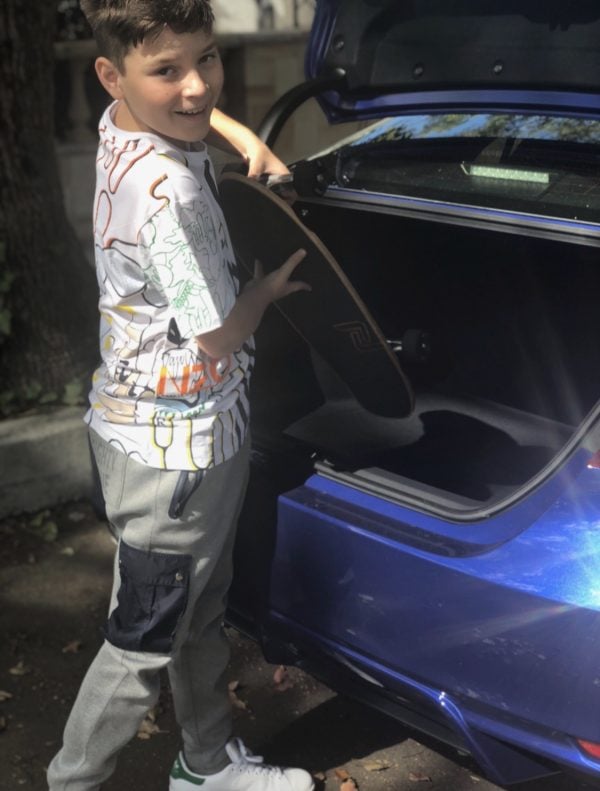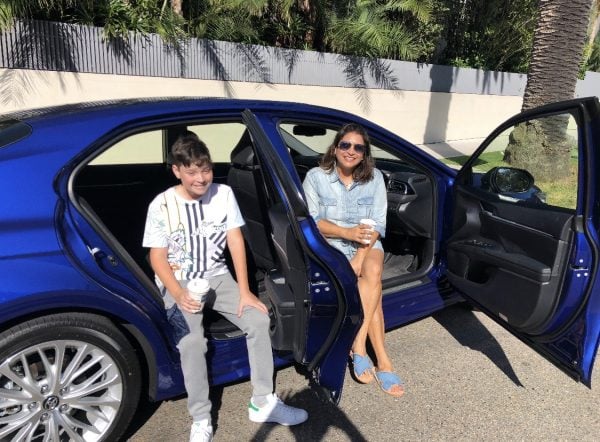 I'm ashamed to admit this, but despite the excellent navigation, I still manage to take the wrong lane - ahem, several times - and we. Are. Lost.
I'm worried about being late. I'm worried that I seem to keep seeing signs indicating tolls need to be paid and what is this toll business, we don't have them in SA?
I'm pleasantly surprised that no-one is beeping me. "Wow," I think. "Sydney drivers are so nice."
And then I remember that the car has SA number plates, and know that the other drivers have just written me off as having no idea what I'm doing. Which is kind of true.
But the one thing I don't have to worry about? The fuel tank. Again, it has not moved. I'm in awe. Finally, we get to our friends' place, and I have never been so happy to arrive anywhere.
Come Sunday, I'm full Sydney native and Hilary is too.
The verdict?
I had been intrigued by the chance to see if a hybrid makes any difference to my usual weekend crisis of unintentionally exploring Sydney while doing all my usual mum stuff: and the verdict is that it made a huge difference in terms of time-saving and convenience.
The hybrid meant the number one thing for a new-to-Sydney, time-poor mum: one less thing to worry about. And that's something I need a bit more of!
This content was created with our brand partner Toyota Hybrid.
*The Bluetooth® word mark is owned by Bluetooth SIG, Inc. Not all devices will be compatible and functionality varies depending on the device.
**Current navigation mapping database encompasses major capital and primary national road networks and offers some coverage in regional areas.
Over 1100KMs on a Tank. You read that right.
Usually when things sounds too good to be true, they are. Introducing the exception,
Toyota Hybrid.
With an outstanding fuel economy, you can go unbelievably far without needing to stop to fill up. And there's absolutely no need to plug it in- the battery charges as you drive, using the engine or energy captured when decelerating or banking. That means the only thing you need to worry about for 1100KMs is directions.
Disclaimer: Estimated distance of 1111kms based on combined ADR fuel consumption rate of 4.5L/100km. Results achieved in test conditions. Actual results may vary depending on driving conditions, style, vehicle condition and options/accessories fitted. Fuel consumption data provided for comparison purposes only. Source ADR81/02 for Camry Hybrid SL model.