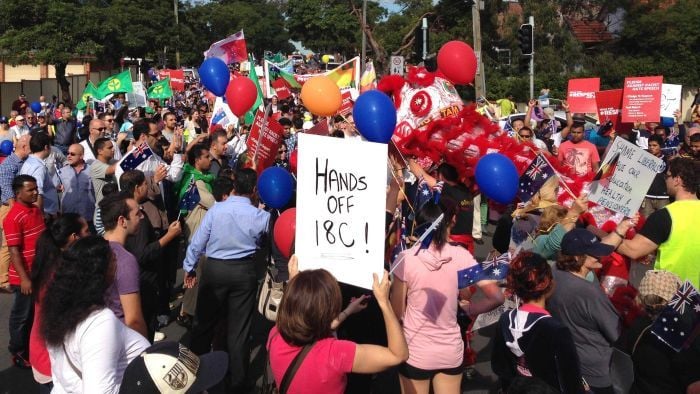 By Stan Grant
18C? Never heard of it? Means nothing to you? You're not alone.
Deputy Prime Minister and National Party leader Barnaby Joyce says people aren't stopping him in the street about it.
A couple of weeks ago filming for the ABC TV program, The Link, we asked people: what was important to them?
There was lots of talk about health, education, housing; no-one mentioned 18C.
I asked one man — articulate and informed on issues like cutting penalty rates and immigration law — directly about changes to the Racial Discrimination Act, and he said he had no idea what it was about.
So, why all the fuss?
You could ask: why am I even writing about this? I am chewing up more column inches on something that is far from a first order issue in people's daily lives.
But, I'd argue, this isn't really about changes to an obscure piece of law. It is about something more fundamental; it is about how we live together. It is the test of pluralism in a globalised world.
'The return of history'
We are witnessing waves of migration; borders are flimsy if not often obsolete. We are rubbing up against each other — religions, races, cultures.
International Relations professor Jennifer Welsh has dubbed this "the return of history" — a rejoinder to political scientist Francis Fukuyama's thesis that the end of the Cold War was the final victory of Western liberal democracy and "the end of history" — a resurgence of tribalism, nationalism and sectarianism.
All of this at a time of information revolution. It can be an incendiary mix.
Philosopher Timothy Garton Ash calls this the "Cosmopolis": a mixed-up, connected, world-city.
It is the 21st century version of media guru Marshall McLuhan's "global-village".
In this Cosmopolis there are more phones than human beings and half of humankind is connected to the internet. Mr Garton Ash says this has unleashed the, "evils of unlimited free expression … across frontiers".
There have been celebrated — frightening — cases. In 1989, Salman Rushdie was forced into hiding as the Iranian Ayatollah issued a fatwa — a death warrant — against the author for his work The Satanic Verses, deemed blasphemous to Islam.