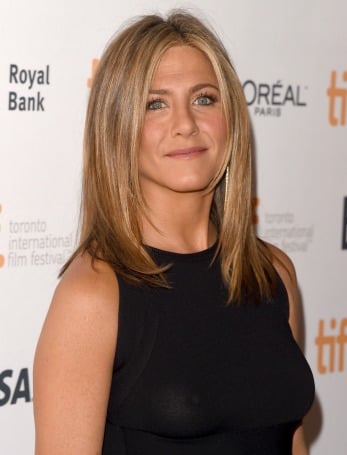 Unlike most celebrities, Jennifer Aniston stays far away from social media.
For her, this is probably a positive thing — not having to deal with nasty comments from anonymous keyboard warriors, for instance, must be nice. However, Aniston's aversion to the online world means we rarely get a glimpse into what her life looks like behind the scenes, which is a bit of a shame.
RELATED: Jennifer Aniston's favourite hair product is, well, surprisingly gross.
Clearly the Cake star can sense our disappointment, because this week she kindly threw us an Insta-bone. For 24 glorious hours, Aniston took over the Instagram profile of Living Proof, the beauty brand she co-owns.
Her brief affair with social media taught us quite a lot about how the 46-year-old spends her down time — here are five things we learned:
She eats carbs
In most cases, celebrity 'my day on a plate' rundowns are conspicuously devoid of carbohydrates. Starlets will rave about zoodles, kale, and egg-white omelettes, and the occasional square of organic dark chocolate as a "treat". But bread? Pasta? Those guys are typically off the menu.
This is evidently not the case for Jennifer Aniston. Her debut Instagram post was of her breakfast (of course), consisting of brown toast, a poached egg, avocado and tomato. And it looks bloody delicious. (Post continues after gallery.)
Jennifer Aniston: the hair, the woman, the legend.