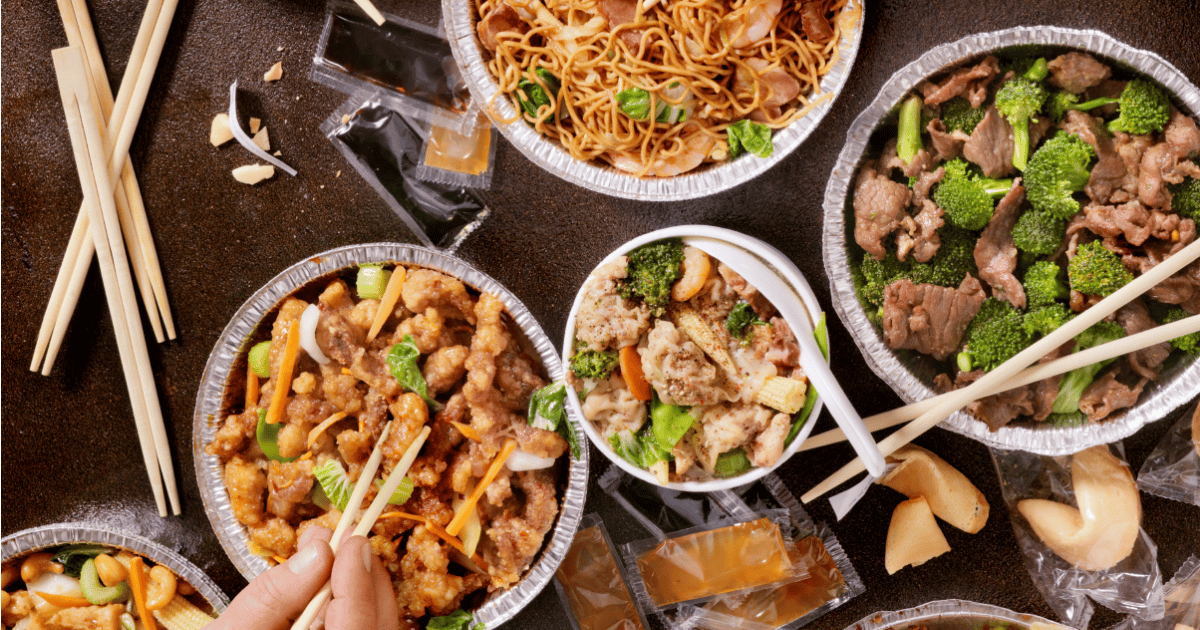 Many nights have been spent snuggled on the lounge with a container of takeaway and whatever's trending on Netflix.
Ordering in can save you a whole lot of time and effort, but the cold hard truth is that these meals aren't always going to be a nutritious choice. In some cases it's impossible to determine exactly what's gone into them.
That's not to say you can't eat an entire pizza or Pad Thai by yourself if that's what your heart (and/or stomach) desires, but takeaway doesn't always have to be so indulgent.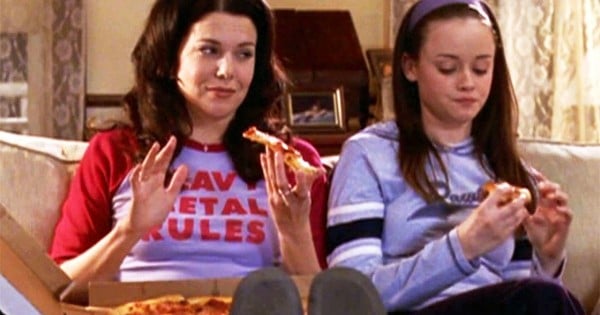 The Gilmore Girls were all about the pizza. (Image: Warner Bros television)
Dietitians know their stuff when it comes to food — it's their job, after all — so we asked five of them to tell us what they order from the takeaway menu. They're only human, after all.
Melanie McGrice
Melanie McGrice favours her local fish and chip shop, Saltwater Grill in Melbourne's Albert Park — and there's one dish she's particularly fond of.
"My favourite takeaway is grilled dory and salad. I prefer dory to flake, as it has more omega 3 and less mercury," she explains. It's pretty tasty, too.
Watch: Be mindful of the drinks you order, too — they can be deceptively high in sugar. (Post continues after video.)
Olivia Bates
When Olivia Bates opts for takeaway, she has three go-tos: Japanese sushi, Thai stir-fries, and Chargrill Chicken's salads.
"I tend to opt for sashimi or rice paper rolls because you can see exactly what is in them and there are no hidden nasties," Bates explains.
Sometimes she'll opt for a sashimi salmon and avocado hand roll with purple or brown rice, because a) it's delicious, b) doesn't require sauce, and c) delivers a good dose of omega 3 and good fats.
Love Japanese food? You're not alone. (Image: iStock)
"I am conscious of the sugar used to sweeten the rice, though, so I limit my [hand] roll intake and instead try and fill up on sashimi and rice paper rolls instead," Bates adds.
When it comes to Thai food, she hits up the stir-fry menu, choosing either a vegetarian or chicken option because they're "packed" with veggies and served with steamed rice.
Bates also loves Chargrill Chicken's salads range, and not just because they remind her of her school days.
"I have some big faves: ricotta and spinach wontons, shredded chicken salad, or there is usually some kind of barley and vegetable one. I am just careful of the dressings and always get them on the side."
Caitlin Rabel
Accredited Practicing
Dietitian and Accredited Nutritionist

, Bites for Health

Caitlin Rabel prefers to "indulge a little" when she dines out, so she doesn't eat a lot of takeaway. But when she does, there are a few ways she keeps things healthy.

"There are no 'bad' takeaway foods as such, and as part of a balanced diet any food can be healthy," she says. Right on.