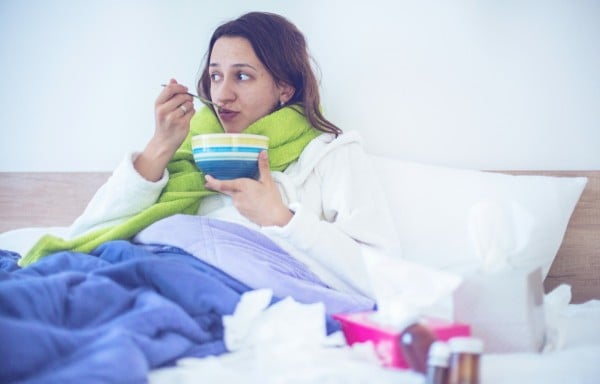 By Peter Collignon, Professor, Infectious Diseases and Microbiology, Australian National University.
The "common cold" is common. Most of us will have at least one or two per year. Children get sick more often and very young children often get more than five colds per year.
Even though it's so common, there's a lack of good research looking into this infection and ways to prevent and treat it.
What is a 'cold'?
The common cold is caused by viruses. It's generally an acute self-limiting infection, which means it comes on quickly and resolves by itself. It involves our upper respiratory tract and airways (nose, throat, pharynx and larynx).
The incubation period after picking up the virus is usually about two days before our symptoms start. The illness then often lasts for five to 10 days.
You are likely to be contagious while you have symptoms but you're most contagious in the early part of illness (the first few days). Once your body effectively fights the infection, the numbers of the virus in your body will drop off and you will recover. We recover from these viral infections when we develop immunity to the strain infecting us by sending white cells to kill the virus and making antibodies active against it.
Watch: Mamamia staff confess the excuses they've used to chuck a sickie. (Post continues after video.)
Sore throat, malaise, cough, sneezing and running noses are the more common symptoms. Headaches, fevers, body aches and severe tiredness are relatively less common.
Some of its signs and symptoms can overlap with other conditions such as hayfever, although the latter is usually without a sore throat.
How do we catch colds?
It was, and is still thought by many, that exposure to cold temperatures, especially in winter caused the common cold. By itself this does not appear to be true. The common cold is caused by viruses. One needs to catch one of these viruses to get a cold – just exposure to low temperatures won't do it.
However when it's cold and wet outside we are more likely to be indoors and be in more crowded places, including with other people who may have a cold. Hence cold weather does make it more likely that we will catch a cold, especially if we are near people who have one.
Its common association with winter and cold weather likely contributed to its name. Whether cold weather and lowered humidity also contribute to the transmission of these viruses is still unclear.