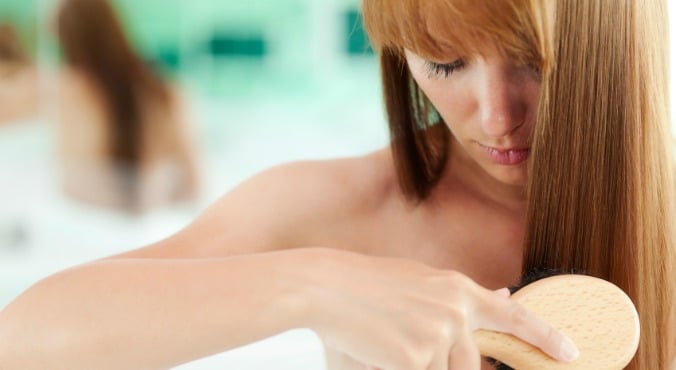 Image: iStock
Oh, if shower plugholes could talk.
Ask any man who's lived with a woman what his biggest surprise was and it won't be the volume of cosmetics she owns or why she likes those funny fruity teas. It will be her hair – specifically, how on earth it travels so far.
How to take a shower: Because apparently we're all doing it wrong.
It's like our hair has an Opal card. The obvious stop for it to get off would be the brush, yet it's an adventurous sort: it likes the bedroom floor, to get twisted around socks in the washing machine, and to relax on the plate of food you've just served to a guest.
Though its personal favourite is the shower plughole – where it invites along all of its friends, gets cosy in some gloop, and tangles in for the long-haul* (*the arrival of the plunger).
But at some point you begin to question whether losing all this hair is normal.
Well, we've got good news. It is.
Mia Freedman gets a new haircut. 
"Our hair naturally cycles: 90% of it is in the growing phase, and up to 10% is in the falling-out phase. We're always losing hair, and that's why you constantly see it in the sink, in the shower and in your hairbrush," reassures GP Dr Sam Hay.
It's estimated that we lose between 50 and 150 hairs a day, though if you're blessed with the locks of a Disney princess, expect to lose more.
"Thick hair naturally sheds more: there's more hair on the head, so more comes out," he explains.