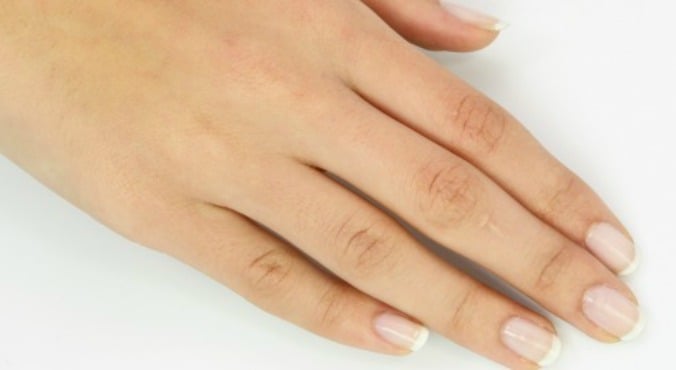 Image: iStock.
Fingernail ridges. If you have them, you know they are about the most annoying things around.
They snag. They break down to the quick. Then, they break.
You might have tried to cover them up or buff them out, but what you really should be doing is finding out if they signify a potential health problem.
As a general rule, we all have subtle fingernail ridges, so tiny you have to really inspect them at close range to see them.
If they are more obvious, they might mean something else.
To start, check the the direction of the ridges – are they vertical or horizontal? And what does that mean?
Vertical Ridges
1. Age
"There are many reasons for ridged nails, but the most common is aging," says Dr Phoebe Rich, clinical adjunct professor of dermatology at Oregon Health Science University. "As we age the nail matrix becomes atrophied in areas, resulting in longitudinal ridging of nails. I tell people they are like wrinkles in the nails."
2. Vitamin deficiency
A healthy balanced diet, rich in Omega 3 fatty acids and whole grains, combined with regular vitamin E hand and nail massages are the best cures for fingernail ridges.
3. Rheumatoid arthritis
Vertical ridges can also be caused by nail injury and certain illnesses, including rheumatoid arthritis. You should confirm this with your health professional.
4. Lichen Planus
This is very rare BUT If the ridges have appeared and grown more pronounced very quickly or over a short period of time, they could be a sign of a very rare condition called lichen planus, which often also causes skin rash. Consult a doctor if you have concerns.
5. They are mostly harmless
Jessica Krant, a fellow of the American Academy of Dermatology and assistant clinical professor of dermatology at SUNY Downstate Medical Centre, says: "Lengthwise ridges, if they are evenly spaced over the whole nail, are common and harmless, and generally associated with normal ageing and the nail's increasing inability to retain moisture." (Post continues after gallery)