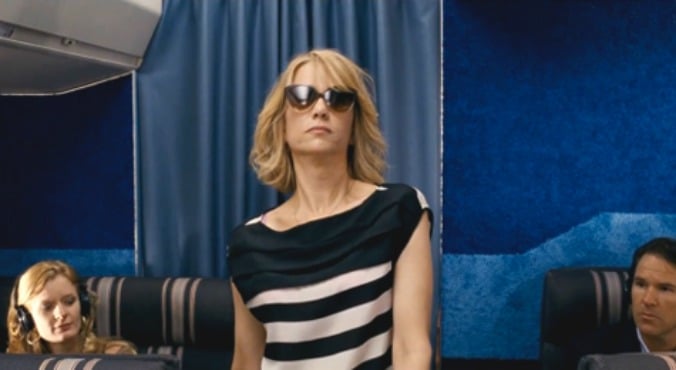 Image: iStock.
I'll let you in on a secret: I love flying long haul. Love it. I love napping, I love the food (I know, I know), but most of all? I love the free stuff.
The little bags of mini toothbrushes and toothpaste. The free drinks. The free movies.
With so many carriers now offering paid-model on board, I decided to investigate what you can actually get for free on certain flights. You know, without pre-buying stuff. Here's your definitive guide:
1. Extra snacks
You know as well as I do those tiny packets of peanuts are never going to fill you up. But did you know that — generally speaking — if everyone else on the flight has already been offered a snack, you're free to go ahead and ask for seconds? Boom. You can never have too many snacks.
Paper Tiger on how to have a healthy holiday. (Post continues after video.)

2. Free alcohol
Typically, free booze tends to only be the case with long-haul and international flights — Etihad, Emitrites, Qantas and Virgin long haul flights offer complimentary alcoholic drinks.
Although many airlines are basically charging short-haul passengers for breathing these days, certain carriers allow you to request a free drink.
"Selections of complimentary alcohol are offered on weekday flights after 4pm with Qantas and 5pm with Virgin," Laura Carlin, Public Relations Manager from Flight Centre said.
Excuse me while I reschedule my flight…
3. A water bottle top-up
When you go through security, you have to pour the water out of your bottle, so you might be a little parched by the time your flight takes off. The good news is, most airlines will fill up your bottle for you for no charge. So long, dehydration.
4. The whole can of soft drink
There's one universal truth about flying: those tiny cups of soft drink will not suffice. However, on many flights, if you ask you just may receive the WHOLE CAN of soft drink. Really.
Similarly, if tea or coffee isn't your flavour, be a little cheeky and ask for a hot choccie. Most airlines offer it — you just need to put your hand up and ask nicely. (Post continues after gallery.)
Celebrities who travel in style
5. Entertainment
Some flights, like certain Jetstar routes, allow you to reserve a free iPad before you fly. So when you're making a booking be sure to check out your options, and then watch all the in flight entertainment you want.
6. Amenity kits
On longer flights most airlines stock little items like socks, playing cards, earplugs, and pens that are up for the taking upon request.
And, on selected Qantas flights, you can request "a complimentary amenity kit that includes an eye mask, toothbrush and toothpaste," Carlin says.
7. Basic medicines and bandages
Many flight attendants are also experts at making heat packs and ice packs out of plastic bags and water bottles if you need them. If you have a headache or heartburn, many flights will have basic medications on board which won't cost a cent if you request one.
If you do have an emergency medical situation, most flight attendants are trained to find a doctor on the flight and also organise a doctor to meet you at your destination if needed.
8. Swapping your seat
Swapping your seat needn't be a drama — or cost you a cent. If you're away from a mate who is sitting at the other end of the plane, just ask to swap after boarding. Usually this will be fine, provided you're not impeding on another passenger's flight.
What do you love most about flying?