It's never been easier to check the weather. No longer do you have to wait for the hourly weather reports – just whip out your phone, click on the weather app and you have all the info you need.
But if the temperature (or the chance of rain) is the only thing you look at, you need to rethink your approach – particularly when it's the crazy hot weather most of the states have been experiencing this week.
UV radiation levels in Queensland are expected to reach as high as 17 this week, ranked "extreme". People are generally warned to stay out of the sun at level three.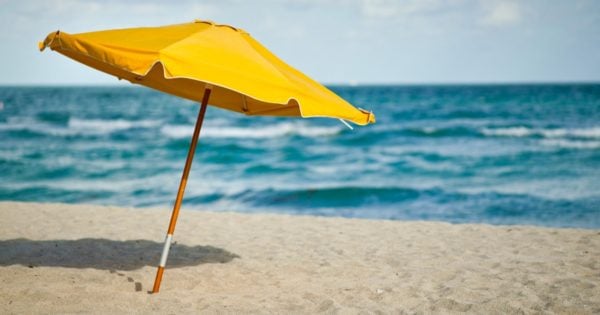 "It's a common myth that you can tell when you need sun protection based on temperature, or that sun protection is only required on sunny, hot days. But in fact UV cannot be seen or felt – it's not like the sun's light that you can see or the sun's warmth, which you can feel," says Craig Sinclair, Chair of Cancer Council Australia's Skin Cancer Committee.
"You can still get sunburnt on a cool or cloudy day. It's therefore important to look at UV levels to determine when sun protection is required."
Too much exposure or high impact UV levels can cause a number of health issues, including sunburn.
Listen: The sunscreen pact we all need to make. Post continues after audio.
"Sunburn is the best-known, however, it can also lead to premature skin aging, a number of skin conditions, inflammation of the eye, cataracts and skin cancer," explains Alecia Brooks, Portfolio Manager, Skin Cancer Prevention at Cancer Institute NSW.