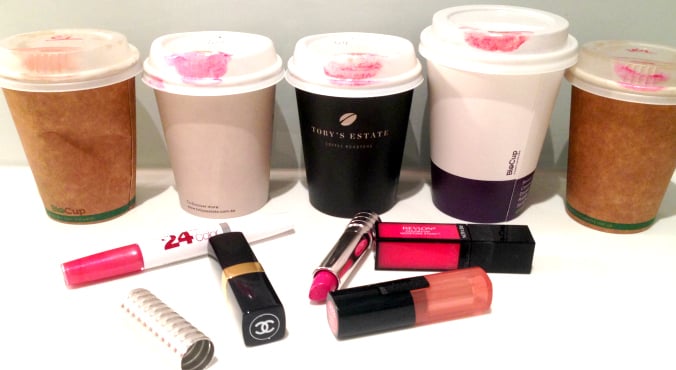 Image: Nicky's latte-sipping experiments
I'm going to come right out and say it: I'm not a fan of long-lasting or long-wearing lipsticks. As someone who rarely has wild nights out anymore, the need for me to own a lipstick that stays on beyond 3am is limited.
Having said that, I do appreciate a lipstick that doesn't disappear roughly seven minutes after applying it. I can't tell you how many work functions and meetings I've attended and wasted time thinking about the dreaded Lipstick On Teeth Syndrome. That or the chunky dry residue you're left with when lipstick sinks into your lips and promptly disappears.
RELATED: We tracked down Margot Robbie's Oscars red lipstick
So with that in mind ,I put six so-called long-lasting lipsticks to the test by parking my lips around my coffee cup. In case you're thinking one coffee does not 24 hours make, that's true, but these lipsticks should have staying power throughout your imbibing. And besides which, it takes me several hours to get through one small coffee. I applied the lipstick at 8:30am, didn't reapply throughout the day and wiped it off at 10pm. I chose one from each of the bigger makeup brands, here's how they fared.
RELATED: Yes, you can use red lipstick to conceal dark under-eye circles

I haven't bought a lipstick this fun for oh, I don't know forever. The shade I have on is Rio Rush and the doe-foot applicator gets major points from me. Since I have a weird cupid's bow I am always smudging lipstick across the top of my lip moments after I've carefully applied it, but not with this applicator. Tick.
It goes on smoothly but as a stain with a lip gloss texture, it does feel sticky. After taking a few sips of coffee, the majority of the gloss off is on the coffee lid, but there's still a decent deposit of colour left on my lips – and it stays like this until after I eat lunch. Towards the end of the day it has faded (I drink a lot of water) and I'd prefer more of a punch of colour than what was left at 4pm.
Shade: Rio Rush
Smudgability: High
Longevity:  2.5/5
This one was one of my favourites to apply. It's super creamy and (aside from the Chanel Rouge Coco) feels the most like a regular lipstick. What I loved about this one was that even though a little came off on the coffee lid, the main colour lasted.
Shade: Power With Pink
Smudgability: Not bad.
Longevity: 3.5/5

How pretty is this shade from L'Oreal? It's a great one to accompany a smoky eye or a summery peachy coral look. As a lighter lipstick it was a bit hard to tell how much was left on my lips after drinking coffee. As you can hopefully see from the photos, the sheen is no longer on my lips in the right hand photo. However, there was still a little colour left at the end of the day. While it was outperformed by some of the others, this one did feel the most comfortable on my lips (it was also one of the easiest to take off).