US daytime TV host Wendy Williams is well known for her elaborate costumes during her Halloween specials. This year, however, her outfit came with a nasty side effect.
The 53 year old fainted live on air.
Dressed as the Statue of Liberty in a tight emerald green dress, wig and significant head piece, Williams was presenting a segment about her Halloween costume competition when her eyes widened, she stopped talking and began visibly shaking. After stumbling back, she fell to the floor where she was immediately attended to by crew.
The show cut to an extended commercial break, and concerned shrieks from the studio audience could be heard.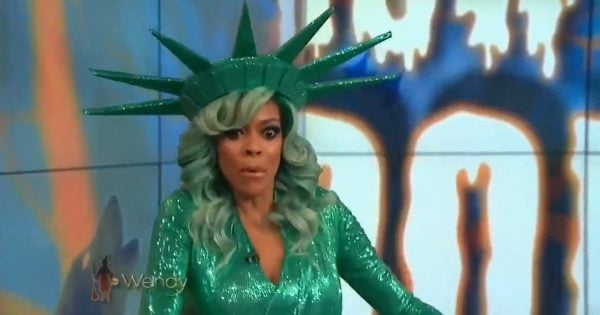 After the break, Williams was back at the desk.
"That was not a stunt. I'm overheated in my costume and I did pass out. But you know what? I'm a champ and I'm back," she said.
The show issued a statement shortly after following concerns from viewers, stating "Wendy is feeling much better. She overheated because of her heavy costume, makeup and lights. She was able to finish the show in true Wendy spirit. Thank you for your well wishes."