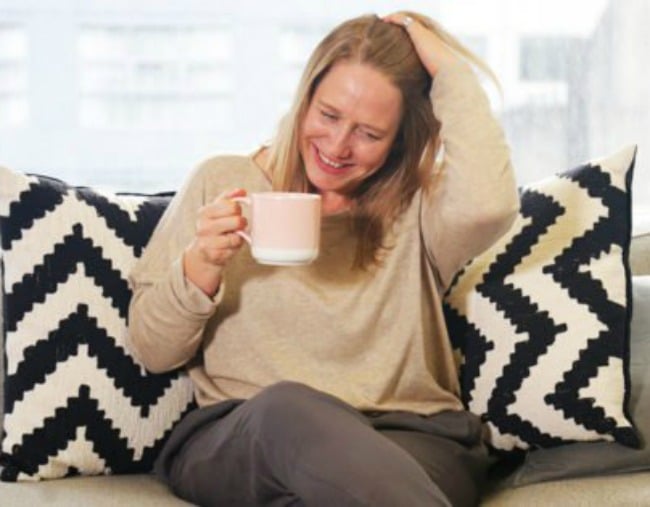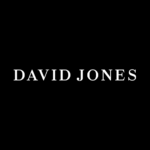 I don't go to da club any more.
Let's be honest. It's been a long time. So my 'weekend wardrobe' is not as exciting as it once was.
I have two small children. A lot of stuff to get done. And a whole lot of 'parent friends' to get around.
So my weekends are less about minis and stilettos, and more about comfy, versatile clothes that don't make me feel like I'm wearing tracksuit pants and uggs. Even though, sometimes, I am indeed wearing tracksuit pants and uggs. But not to the shops. Or the playground. Or to dinner. What am I? An animal?
When it comes to weekend dressing, I need some help. Help that doesn't involve the words 'resort collection' or 'juice cleanse'. The kind of help that actually comes in the form of some simple, classic, not-going-to-bankrupt-me clothes from a brand I know. Enter, David Jones Collection.
And enter two pairs of slouchy but definitely not-trackie-pants pants, one special dress and a winter jacket that I am having a hard time taking off (okay, okay, I'm wearing it while I type. It's the gold zip. I just fricking love the gold zip).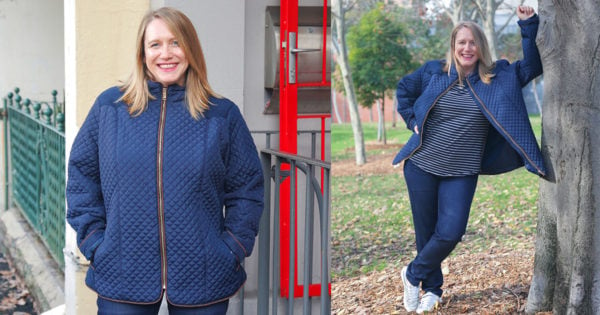 Here I am heading out on a rainy Saturday afternoon, with my dark navy pants, also from the Classic Collection. They are like jeans but not, like trackies but not, and the fact they come in nice and tailored at the ankle makes them feel just a touch put-together.
David Jones Collection is all about simple, easy-to-wear items that are going to make you feel both comfortable, and good about yourself. And that's my whole thing. So, back to the jacket:
It's navy, although it also comes in black, and it costs $129.95. And it's so cosy, and cool. And I chose a size bigger because I didn't want that too-tight quilted look, I wanted it to be big, like a doona you can snuggle into.
So the other thing I struggle with in winter and the weekend are jumpers. Something that's going to be warm but not massively bulky. I don't mean to burden you with my womanly insecurities, but I'm not really down for any added bulk, and that can make knits tricky. So I was pretty happy to find this thin, pale-caramel number, that was not-too-hot, not-too-cold, and certainly not heavy in the bulk department. It's $44.95, people.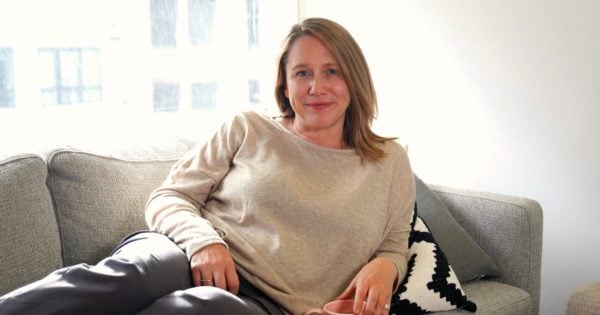 As for my pants, they are charcoal, and loose-waisted and they cost $169.95. Perfect to slouch around in but also very acceptable for popping down to the shops in. They are exactly the right amount of comfortable but dress-upable. You could wear them with pretty much anything. Like this long-sleeved  striped T-shirt, I couldn't leave without it... It's $29.95 and with a bright lip makes me feel very on trend.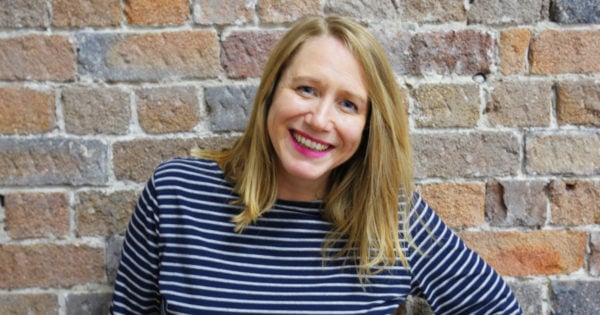 So I spend my weekend in T-shirts, slouchy jumpers and pants. It's true. I run around after my little people, and I need clothes that are completely practical for that. But then, you know, even for me, there's Saturday night.
This week, we were going out for a dinner with some mates. And I wanted to wear a frock. Not one that was going to have me pulling at it all night - up at the neck, down at the knee - but one that stopped me from feeling like a boring playground parent when I had a glass of something cold in my hand.
Enter the mostly blue dress from David Jones Collection. It's this gorgeous mix of colours, and every time you look at the print, you see something different. What, there are a sprinkling of spots there? Some oriental writing here? It looked a bit like the ocean, a bit like the cliffs. And I kind of love it. Below you'll see the full length version of me on my staircase heading out. Anyone who has young children will understand I'm smiling because I've just escaped bedtime. There's nothing like it. The dress is $119.95.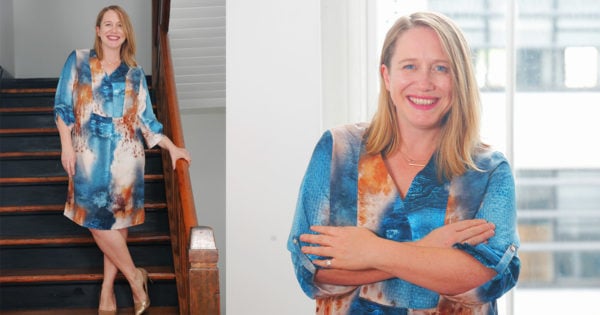 And that's about it for the 'weekend wardrobe'. I'm not a woman who needs to change 25 times a day. I don't have time for that. But  I am a woman who feels just a little bit more like I now know what I should be wearing on those days when I'm not at work, wearing my work uniform of black and heels.
But I'm still not going to da club.
What do you wear for your 'weekend wardrobe'? Share with us your sartorial secrets below.
This content was created with thanks to our brand partner David Jones.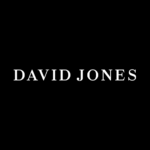 David Jones offers a curated range of elegant and stylish pieces perfect for the colder months. Featuring soft knits, bold prints, classic basics and neutral tones, this timeless collection offers a little something for everyone, no matter what your style.  View the full winter 17 David Jones Collection available exclusively from David Jones, instore and online now.