We've all been a guest at one of those weddings. You know the ones.
The one where the groom's father mumbles through a few disingenuous thank yous. Or the maid of honour gets too giggly/teary during her speech and barely makes any sense.
Making a speech at someone's wedding can fill even the most confident public speaker's belly with butterflies. There's no bigger wedding reception disaster than hearing a wedding guest say, "That was a beautiful wedding…shame about the speeches" as they leave the party.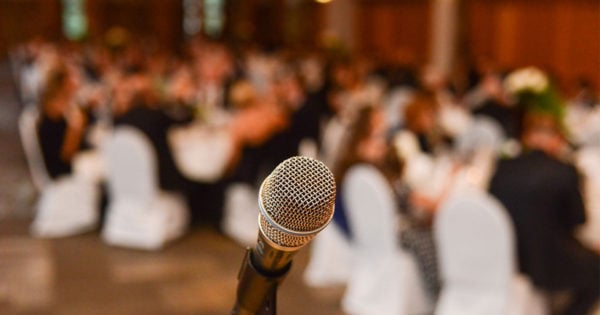 So, whether you're the mother or father of the bride, the maid of honour or best man, we've got five tips to guarantee your wedding speech will be one to remember.
(For all the right reasons, of course...)
1. Take it seriously and take the time to prepare.
Of all the people the bride and groom could have chosen to say a few words during their special day, they picked you. Honour their choice by making time in the weeks before the wedding to prepare your speech.
That means, no making random scribbles on your napkin during the first course that you're guaranteed not to be able to read when you stand up to make your speech.
LISTEN: Sarah Harris was papped in her wedding dress... before her hubby got to see it. (Post continues...)
Even if you jot down a few thoughts about the bride and the groom a couple of days before, or if you're a more confident speaker, write down a rough outline of what you plan to say, at least you won't feel panicked when your moment arrives.