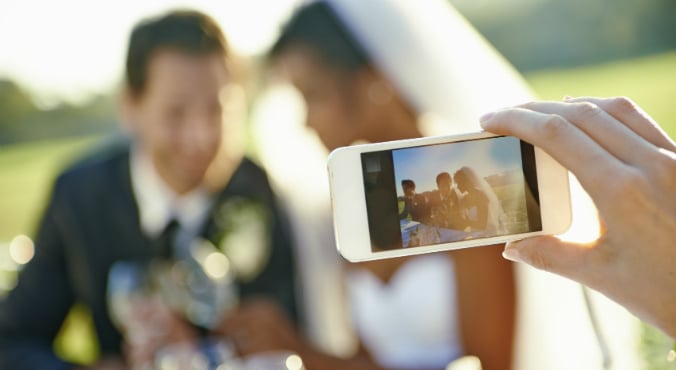 Image: iStock.
Should smartphones be banned from wedding ceremonies?
Australian wedding photographer Thomas Stewart thinks so – and he's got a pretty good reason for it, too.
His argument is simple: guests at weddings have become obsessed with capturing the moment on their smartphones, and as a result, they are actually missing the truly beautiful, spontaneous moments that are happening around them.
Worst of all, smartphone-wielding guests are preventing the bridal couple from enjoying – or even seeing – the events of their special day.
It was the above photo that sparked Stewart's outburst.
He wrote in his viral Facebook post: "Look at this photo. This groom had to lean out past the aisle just to see his bride approaching. Why? Because guests with their phones were in the aisle and in his way. This sucks."
Stewart lamented how brides and grooms can't even see their guests' faces as they are obscured by phones and cameras.
He pleaded with future wedding guests to be there "in heart and soul… You are witnesses to their marriage, so for goodness sake, watch them with your eyes and your minds, not your phones." Stewart went so far as to say that guests' amateur smartphone snaps were "usually crap".
We think middle-parted hair makes for a gorgeous wedding guest look. (Post continues after video.)
He also had this advice for the betrothed: "brides and grooms, please have a completely unplugged wedding ceremony".
Our advice is to take your cue from the bridal couple.
If the MC tells you that there's a wedding hashtag, like #samloveslara or #jenandjustinwedding2015, or if they're taking tons of selfies, then it's pretty obvious that they're happy for you to snap away. But if the couple have followed Stewart's lead and there's an announcement of "no technology, please," then you know what to do: turn your phone off, put it in your pocket, and relax.