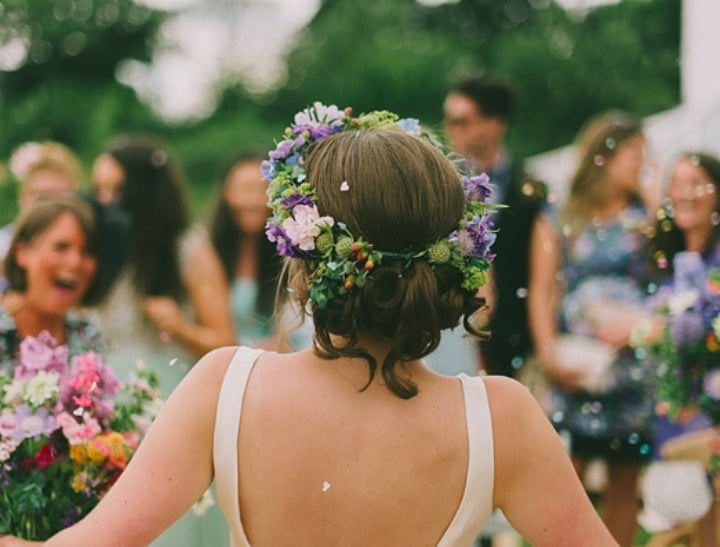 How to have a disaster-free wedding. (As far as your hair's concerned, anyway.)
If you're planning a wedding, or are soon to be a bridesmaid, it's a no-brainer that you want to look and feel your best.
With all the effort that goes into finding the right dress and venue (not to mention groom), you don't want to be let down by lacklustre hair.
Read on for the biggest hair complaints brides have before their wedding – and what you can do to get your best hair day on your big day.
1. "Help. I'm trying to grow my hair out for the wedding but breakage and split ends are taking over."
If, like me, you want to grow your hair longer for your wedding, keeping it in mint condition is essential, and this can be even harder in the winter months. In cooler weather, the moisture in your hair is depleted from indoor heating and cold outdoor air.
To counteract this, treat your hair to a deep conditioning mask two or three times a week that will help undo styling damage and strengthen your hair. And if you have particularly bad split ends, leave the treatment in overnight, cover your head with a shower cap, and rinse it out in the morning.
2. "My bridesmaid hates the style I've chosen for her."
You have one job as a bridesmaid, and that's to help make your friend's wedding day one of the best days of her life. But you don't want to be the bride that makes her bridesmaids miserable, do you?
If your bridesmaid is seriously upset with your hair choice, then you should be willing to at least hear her out and hopefully reach a compromise.
If it's an issue of uniformity, remember that it's likely the bridesmaids will be wearing the same dresses and shoes and jewellery, so the overall look won't be ruined by allowing them to have different hair.
If it suits the wedding, one way to bring all the bridesmaids hair together is to accessorise with a floral headpiece or vintage hair pin. Problem solved.
3. "I'm worried blow-drying my hair is making it dull and damaged."
Ah, winter – it's a curse. There's no way we want to brave the cold air with wet hair, yet daily use of heat styling tools can take their toll.
But relax, there's no need to skip the hairdryer just yet. Start by applying a few pumps of hair BB crème to protect strands. Then, divide hair into four even sections starting at the nape of the neck, working up toward the crown.
By focusing on smaller areas, you'll avoid "overdrying" certain pieces and will distribute the heat more evenly.
Finally, give your 'do a shot of cold air at the end of your blow-dry to help seal in moisture and retain shine. Also try switching to a more hydrating shampoo and conditioner that will nourish your hair to the tip.
4. "I want to go back to my natural-ish colour, but don't know where to start."
Sure, rocking that pink wash in your hair seemed like a good idea a few months ago, but spring is fast approaching, and it's time to go back to your natural roots (pun intended) before your future MIL has a meltdown.
Well, you're not alone. Most brides opt for a natural beauty look because you want to look like the best version of yourself, albeit with much better hair.